Post by Scorpion on Mar 10, 2012 1:40:37 GMT -5
The scene opens up as the fireworks begin to go off in the arena and the official opening theme song of EHWF Friday Night Mayhem, "No Remorse" by Metallica, is blasting over the PA system.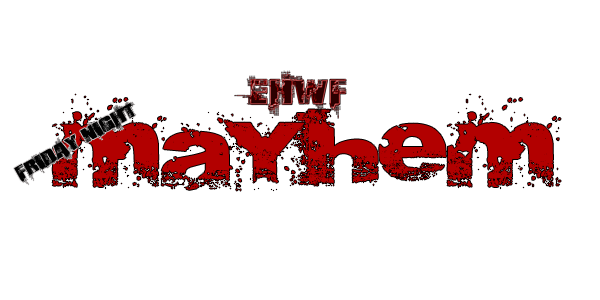 The camera pans around the whole arena, showing all the screaming fans on their feet ready for another night full of action. After a few moments of the fans going crazy, the camera pans down to ringside, where the best announcers in the business, Steve White and Michael Rissi, are both sitting.
Steve White: Hello, ladies and gentlemen, and welcome to EHWF Friday Night Mayhem! Tonight is sure to be explosive and i personally can not wait to see the matches we have lined up! And tonight, i am joined by Michael Rissi. Chuck Thompson could not be here tonight due to what happened to him last week when Rockin' Lunatic came flying off of the top of the ladder right onto Chuck.
Michael Rissi: What happened to Chuck Thompson last week was horrible, i actually feel bad that i don't feel bad at all about it, though. I'm fired up for tonight though, Steve. I think the whole card is a great setup and i can't wait to see the matches happen!
Steve White: Our main event tonight will be Nathaniel Grant putting the North American Championship on the line for the third time in just over a month against a true contender in Arthur Farrow. Farrow proved himself worthy last week when him and John Chellios won their tag team match against the very tough team of Matt Dave and the Mayhem World Champion, David GS. Now tonight, he looks to take the title from Nathaniel Grant.
Michael Rissi: Yes that will be a great main event for sure, but we also have the co-main event which features the Mayhem World Champion, David GS, versus a fast rising superstar here in EHWF in Kail Etheniel. If Kail wins this match, there is no doubt he will be a shoe in for a top contender spot of at least one of the titles. In my personal opinion, it should be the Mayhem World title because he will be beating the Mayhem World Champion. It just makes sense that way.
Steve White: No matter what title he gets a shot at, i'm sure the champion will have a very hard time dealing with him. We also have some great other matches lined up for tonight as well, so let's waste no time in getting them started. Let's go to our lovely ring announcer, Patricia Downs, inside of the ring right now.
The camera then pans up to Patricia Downs, who is standing in the center of the ring with a microphone in her hand, ready to call the first match of the evening.
Patricia Downs: Ladies and gentlemen, the first contest of the evening is a tag team match and it is scheduled for one fall!
Unexpectedly, "Step Up" by Drowning Pool blasts over the PA system and Scorpion walks out onto the top of the entrance ramp with a microphone grasped in his right hand. He stands on the top of the entrance ramp for a few moments, letting the crowd half cheer and half boo him. He just smiles and as his theme song dies to a stop, he begins to talk.
Scorpion: I'll agree to take fifty percent cheering me and fifty percent booing me. I'm ok with that. Anyway, i came out here to take care of a small piece of business. I do regret to inform you that the first match will not be happening tonight due to Quinton Hughes lashing out backstage and leaving the other three men, yes three, including his tag team partner, in a pile of their own blood. By the time we stopped him, it was too late. The three men were beaten so badly they had to be sent to a local hospital. But that's ok because we still have a great night full of fights ready! Thank you!
His theme song blasts over the PA system again and Scorpion walks back to the backstage area as the fans half boo him and half are silent, not really knowing who to blame. The camera pans back down to Patricia Downs, who is still standing inside of the ring, as she looks a little bit confused, but she announces the second match of the evening anyway.
Patricia Downs: Ladies and Gentlemen, this following bout is scheduled for one fall. Introducing first!
The Tron Blares Catastrophic Katniss' Intro as she walks out into stage, she stands there staring at the crowd for a moment before she shrugs them off and walks down the ramp, she runs and slides in the ring quickly jumping to her feet, she gives a nasty grin as the camera focuses oh her face. As her music fades she stands close to ropes stretching as she watched the tron for her opponent to come out.
Patricia Downs: Introducing First, From Unknown Places, Catastrophic Katniss!
Fly by Nicki Minaj and Rihanna hits the P.A. System. The fans instantly begin to cheer as out from the ramp entrance beams Joanna. She raises her arm up and keeps the other on her hip smiling towards the fans. She plays around a bit keeping her smile and highfives the fans as she runs down to the ring. She steps up the steel steps and wipes her boots on the apron before happily entering the ring and preparing to fight.
Patricia Downs: And From New York, Joanna Isabella!
Steve White: Katniss and Joanna both appear to be ready, Katniss looks intense and I know Joanna is wanting to prove herself even more after beating Skarlette and Katrina last week with Amanda Maxwell.
Michael Rissi: Yeah, you know me Steve, I enjoy a good Divas match. This one looks to be pretty intense here tonight.
DING DING DING!
Match #2: Catastrophic Katniss vs. Joanna Isabella
The Bell Rings and Joanna and Katniss quickly lock up in the center of the ring. Katniss easily over powers Joanna. Katniss lifts Joanna up and slams her into the mat. Katniss then goes to hit some hard strikes into Joanna. Joanna quickly rolls out of the attack and gets to her feet. Joanna locks up with Katniss once again but Katniss easily overpowers her once again and slams her into the corner a few times.
Steve White: Katniss is quickly dominating this match right here, she is in another zone.
Michael Rissi: Yeah, Joanna Isabella has to think of a different method if she wants to win this match. She just can't win a game of strength with Katniss.
Katniss whips Joanna into the ropes. Joanna bounces back and runs towards Katniss. Katniss goes to clothesline Joanna but Joanna ducks her attempt. Joanna bounce off the other side and slides through Katniss' legs. Joanna bounces of the ropes once more and hits a big dropkick on Katniss, knocking her to the mat.
Michael Rissi: But Joanna can win a game of speed in this match it seems.
Steve White: Katniss is still dangerous, Joanna needs to watch out.
Michael Rissi: Katniss is back up!
Katniss gets back up. Joanna tries to hit a roundhouse kick on Katniss but Katniss ducks it. Katniss grabs Joanna and scoopslams her onto the mat then hits an elbow drop. Katniss picks up Joanna and tries to get her ready for the Worst Nightmare. Joanna is able to get out of it but Katniss grabs her and throws her out of the ring out of desperation. Joanna goes crashing to the outside and Katniss follows.
Steve White: Katniss is showing some impressive domination. She is surely proving that she has some skills.
Katniss grabs Joanna on the outside and throws her onto and over the announce table. Joanna goes crashing onto Michael Rissi and Steve White as Katniss laughs to herself. Joanna eventually gets up, shakes her head and fixes the collar of Michael Rissi and the tie of Steve White. Katniss lets out a smirk as the ref counts. 1...2...3...4...5. Joanna gets back up to Katniss. Katniss runs at her going for a clothesline but Joanna ducks it and rolls back in the ring.
Steve White: Michael are you ok? For those who missed it Katniss just threw Joanna onto our announce table...
Michael Rissi: Steve you need to be calling the action in the ring man, not outside the ring...
Katniss rolls back into the ring and Joanna quickly dropkicks her. Katniss is pissed off and runs at Joanna but Joanna hits her with another dropkick. Katniss gets up and whips Joanna into the ropes. Joanna ducks a clothesline attempt and bounces off the ropes again. Joanna comes back and locks around Katniss hitting her Wheelbarrow Bulldog. Katniss is out as the crowd cheers and Joanna goes for a cover.
Steve White: That's it!

1...
2...
KICK OUT!

Katniss kicks out and both Divas get up. Joanna goes to get Katniss in a headlock but Katniss elbows Joanna in the gut and whips her against the ropes. Katniss grabs a running Joanna and lifts her above her head, ready for a slam. Joanna quickly knees Katniss in the head while she's up there. Katniss is stunned and drops Joanna. Joanna hits the mat and acts quickly by getting Katniss in a roll up school boy pin.

1...
2...
3!
DING DING DING!
Patricia Downs: Here is your winner, Joanna Isabella!
Steve White: What the hell! Joanna pulled it off.
Michael Rissi: It was a great match though Steve. Great from both parties.
Steve White: This match has showed me that Katniss isn't to be messed with, it's showed me that she can hang with the big dogs and she is set to dominate here in the coming weeks. A big win for Joanna as well who is 2-0 now.
Joanna walks around in the ring as her music plays; she goes over to Katniss and offers her hand to help her up. Katniss shrugs her off at first but then takes her hand and gets up. The two shake hands for a second before Katniss knees Joanna in the gut and scoopslams her hard onto the mat. Katniss rolls out of the ring and walks up the ramp laughing as Joanna is hurt in the ring.
Michael Rissi: That's not nice now is it.
Steve White: I don't think Katniss had the intent of being nice. So she lost the match, I don't think that even registered to her, I just think she liked inflicting that pain and dominating here tonight.
We then fade out to a commercial break with Katniss exiting the arena area.The scene comes back from a commercial break and we see Steve White and Michael Rissi put their headsets on and face back to the announce table as Patricia Downs makes her way into the ring, microphone in hand.
Patricia Downs: Ladies and Gentlemen, this following bout is scheduled for one fall. Introducing first!
Magnus comes out in a white robe White Robe, Ashes, and Pours a ring of salt before entering the ring.
Patricia Downs: From Houston Texas... Weighing in at 190 Pounds! MAGNUS.
Brian Blades' music hits as he comes out. He makes his way down the ramp arrogantly and gets in the ring waiting for the match to start.
Patricia Downs: And From Odessa Texas... Weighing in at 250 Pounds! BRIAN BLADES!
Steve White: Blades is looking to destroy Magnus tonight, but will Magnus let him?
Both men meet in the center of the ring and the bell rings.
DING DING DING!
Match #3: Magnus vs. Brian Blades
Just as the bell tolls, Blades bolts towards Magnus looking for a big boot. Magnus quickly moves out of the way and Blades misses. When Blades turns around Magnus hits him with a quick left right combo. Blades is rocked by the huge hits and he is sent down to the mat. Magnus quickly jumps down towards the mat and tries to go to ground and pound Blades. Blades rolls out of the way and gets up, Magnus goes to follow him but is met with a few kicks to the gut from Blades.
Steve White: Magnus showing some impressive skill here.
Blades grabs the head of Magnus and begins to drag him to the corner. Magnus gets his bearings early on and forces Blades down to the mat instead, grappling him and trying to set him up for a ground and pound. Magnus hammers down his fist but misses as Blades rolls out of it. Blades gets up and tries to hit a clothesline on Magnus but he doesn't fall. Blades takes another run up at it but this time Magnus nails Blades with a massive big boot, dropping Blades. Magnus rests on the ropes for a minute.
Steve White: Very impressive from Magnus, I did not expect this at all. He has taken down the experience of Blades.
Michael Rissi: Maybe Blades has just lost it...
Steve White: Well whatever the reason I can ensure you that we are seeing some amazing entertainment here tonight!
Blades struggles back up to his feet as Magnus runs over to execute a power move. Blades ducks him and ends up booting Magnus right in the face. Magnus hits the ropes hard and Blades goes onto hit heavy rights and lefts into the mid section of Magnus. Blades goes to get back up but is met with another huge right hand from Magnus. Blades hits the mat and rolls out of the ring.
Steve White: Wow Magnus is actually trying to dominate this thing with Blades.
Michael Rissi: Count Blades out... You should know that by now.
Magnus follows Blades on the outside of the ring and stalks him as the ref starts a count. 1...2... Magnus sees Blades turn around and goes for a lariat but Blades rolls out of the way. Blades gets back up and dishes out some hard kicks to Magnus's mid-section than drops Magnus with his own lariat. The ref continues the count. 3...4...
Michael Rissi: Maybe you have spoken too soon Steve?
Steve White: Maybe I have but no doubt we are seeing some great action from these men here tonight.
Michael Rissi: Oh God... What's Blades doing now?
Blades goes on to drag Magnus's head and set it up next to the ring post on the outside as the ref continues to count. 5...6... Blades raises Magnus's head and slams it, full force into the steel ring post. Magnus is busted up and bleeding. Blades pushes him back into the ring looking to finish the match.
Michael Rissi: Even though Magnus almost lost it he is actually fighting quite well.
Steve White: Look at Blades taking advantage... Blades has no emotion for anyone at all, especially Magnus.
Michael Rissi: Magnus is busted open and bleeding profusely. Magnus is in big trouble.
Steve White: I'm not counting Magnus out just yet!
Blades finishes stomping out Magnus and takes a rest on the ropes. Magnus tries to roll away slowly but Blades stalks him, ominously beaming in on him. Blades goes down to grab Magnus's head but Magnus hits a big elbow into the face of Blades sending Blades gasping in the corner. Magnus slowly gets to his feet but Blades is angry and in a rage, flings of the ropes towards Magnus. Magnus doesn't have a second thought and smothers Blades's move by taking him down and going for a ground a pound. Magnus hits some big punches into the face and skull of Blades. Blades is down and Magnus sits over him. Magnus raises his arms to the crowd but he may be celebrating too early as Blades rolls him up into a small package pin.

1...
2...
KICK OUT!
Steve White: I am not believing this match right now!
Michael Rissi: Blades so close to ending this one!
A shocked Blades gets up. Both men are covered in Magnus's blood which is still flowing from his forehead. Magnus sways around for a moment then goes to hit Blades with a fast right hand but Blades ducks it. Blades pulls Magnus around again tries to hit a suplex. Magnus stops the attempt and boots Blades in the gut. Blades tries to grab Magnus but Magnus takes hold of Blades and hits his Spinning Piledriver, devastating Brian Blades. Magnus covers Blades

1...
2...
3!
DING DING DING!
Patricia Downs: Here is your winner, MAGNUS!
Steve White: Wow Blades loses yet again and Magnus pulls out a big debut win!
Michael Rissi: I see big things here for Magnus in the future. If he applies himself he can become great.
Steve White: I agree Rissi, the future of Blades is now probably unknown. Has Magnus finished him off or does Blades have some redemption left in the tank.
Michael Rissi: Blades... I don't think he can cut it anymore but maybe he'll prove us wrong. Either way this is a major win for Magnus and we should be focused on that right now.
We see Magnus celebrating in the ring as the scene fades out to a commercial break.
Reality Sets In
When the scene comes back from a commercial break, we see John Chellios walking to the ring with an extremely serious look on his face, as Cryin' Like A Bitch is playing over the PA system. The fans boo like crazy as chelios has a different look on his face. He has a disappointed look. He looks like he's forgetting about the card. He heads into the ring and yells at the announcer to give him the mic. He then grabs the mic and paces around as he begins to speak.
Chellios: When i was in UX, I was held back. I was in the dirt. I was told that i wasn't going anywhere. I would never be World Heavyweight Champion. My career was over. I wasn't going to get anywhere. I'm a loser. Now look at me. I'm a better star than half of those guys in that fed. Guys like Sean Robinson. And his loser friend Matty. As a matter of fact, why am i saying this? Well, it's simple because of one man, Mr. Farrow. Farrow used to work there with me. In fact, he is part of that federation, If you can even call it a federation. More like a group of rejects who couldn't hang here in the big leagues. Just like you Farrow.
Half of the fans boo and half of the fans cheer. The crowd is stirred in confusion. Chellios continues as the fans begin to calm down.
Chellios: Anyway, Farrow you were the entire reason why i left. You were trash then and you're trash now. Now in case you pathetic fans in EHWF don't know, Farrow Isn't here tonight. As a matter of fact he QUIT! Wanna know why? Because just like all those guys in UX, just like all those guys in ECWF, from where i also used to work, and just like Rock and Roll God before him, when the chips are down and it's put up or shut up time, Farrow,
Chellios looks into the camera with a serious look on his face.
You, unlike me just can't get the job done. Farrow that's the difference between you and me, I have what it takes. I can hang with the big dogs. And i, unlike you, am not a washed up never was. Farrow, as you can see i am always here every single week. I never bitch i never whine i never complain. And i never lose interest in this company. If you lose interest, you may as well never have been here in the first place because deep down these fans right here are what it's all about.
For the first time ever, John Chellios points to the fans while looking at the camera as the crowd goes wild and EHWF chants flood the arena. John Chellios looks right at the crowd with a serious look on his face. He then continues to talk as the fans start calming down again.
Chellios: Now DGS, don't think i forgot about you kid. DGS you just go right ahead and continue to keep that title warm for me because i promise you, these fans are looking at the next Mayhem World Champion. And his name is the future of wrestling John Chellios. DGS, next time we fight, I won't need to carry a partner, I won't be beating Matt Dave's ass. I won't be beating Farrow's ass, I will be beating your ass and becoming your new world champion.
John throws the mic down as Cryin' Like A Bitch hits the PA system again and John walks out of the ring. He then yells
Your next Mayhem World Champion!
and raises his arms to his chest as the camera goes to a commercial break which includes the upcoming EHWF Pay Per View, Bloodbath.The scene comes back from a commercial break as New Divide by Linkin Park blasts through out the arena as Chris Styles makes his way out onto the stage he is jumping around trying to get the fans riled up and begins making his way down the ramp slappin hands with the fans and then slides into the ring he walks over and poses in the corner then waits for his opponent.
Patricia Downs: First From Miami Florida... Weighing in at 235 Pounds! CHRIS STYLES!
Steve White: Styles looking to make a big debut here tonight.
The camera transitions from the crowd to the ramp area as the inside of the arena fades to black. "Save Yourself" By Stabbing Westward hits the public announce system. The lights begin to flicker with a blue dim. Out from the back emerges Daniel Givens, who makes his way to the ring in his ring jacket and trunks. He ignores the fans and simply focuses on the ring. He slides in and quickly removes his jacket, ready to compete.
Patricia Downs: From Seattle Washington... Weighing in at 252 Pounds! DANNY GIVENS!
Steve White: The vet in Givens looks to lead his team to victory tonight.
Sinner by drowning pool hits the pa system and the lights flash red for 2 seconds then blue and rotate a Tristate can be seen in his traditional singlet with a dying rose on the back of it. he walks to the ring not even acknowledging the crowds presence. he heads into the ring and waits for his opponent.
Patricia Downs: From Philadelphia... Weighing in at 221 Pounds! ANDREW TRISTATE!
The babyblue lights come on in the arena as muck sticky's free to be me hits the pa system extreme c is seen on the ramp with a mic as he sings along with the fans he then walks down the ramp high fiving fans hands as he enters the ring and waits for his challenger.
Patricia Downs: And From Lakeland Florida... Weighing in at 180 Pounds! CODY!
Michael Rissi: Tristate and Cody won in tag team action last week can they keep it alive and start one of EHWF's new dominant tag teams?
Steve White: Cody has really improved here in EHWF. If he can pull of a win tonight I'd say he is on another level.
DING DING DING!
Match #4: Chris Styles & Danny Givens vs. Andrew Tristate & Cody
The Bell Rings and the match starts. Daniel Givens and Tristate will start the match off. Tristate and Givens lock up. Givens outsmarts Tristate and locks him up, pushing him into the corner. Daniel then goes on to hit some big lefts and rights into Tristate face and gut. Tristate pushes Givens away starts another lock up. Tristate gets Givens in a headlock and holds him there, Givens breaks out and locks up Tristate's arm. Tristate gets out of it and goes back into a headlock on Givens. Givens pushes Tristate off and hits a spinning kick on Andrew. Tristate runs up and boots Givens in the gut. Givens quickly recovers and spears Andrew down to the mat. The crowd cheers as Givens picks Andrew up and does it for a second time.
Steve White: Danny is full of aggression right here. Rissi, do you think Cody and Tristate have a chance here?
Michael Rissi: I'm still picking Danny Givens to win it, the guy is just too skilled but I wouldn't count the new team of Tristate and Cody out just yet.
Steve White: Well said, the action is electrifying here tonight!
Givens picks up Tristate and tries to go for a Seattle Stretch but doesn't get it. Tristate moves behind Givens but Givens ducks Andrew's attack and slams him into the corner. Givens tags in Styles and both Givens and Styles lift Andrew and hit a double flapjack on him. Styles becomes the legal man and covers Tristate.

1...
2...
KICK OUT!

Styles picks up Tristate and Tristate elbows Styles in the mouth. Tristate whips Styles in the corner and rams into him. Tristate then goes on to tag in Cody. Cody comes in and Tristate slams Styles onto Cody's knee. Cody pushes Styles off and bounces off the ropes hitting a lionsault. Givens is angry on the outside and yells out to Styles to get over to him.
Steve White: It's not looking good for Styles.
Michael Rissi: He could effectively lose it for his team here tonight.
Cody starts stomping Styles. Styles is able to get up and make his way to Givens but Cody bounces into Givens on the ropes and knocks him down. Cody hits a big bulldog running back to Styles. Givens is pissed off on the outside. Cody drags Styles back to Tristate and Cody tags in Tristate. Cody and Tristate go to hit another tag team move on Styles but an angry Givens from the outside grabs Cody's leg and drags him outside. Givens starts beating up Cody on the outside.
Steve White: What the hell is Givens doing, he should be trying to get in the match not beat up Cody. Styles is tired damn it.
Michael Rissi: You saw the way Cody knocked Givens off the ropes so Styles couldn't get the tag. Danny has every right to beat the hell out of Cody.
Styles hits some quick kicks on Tristate but Tristate takes advantage of a distracted Givens and grabs one of Styles kicks, locking him in the ankle lock. Givens doesn't notice as he slams Cody's head into the announce table and Styles eventually taps out.
DING DING DING!
Patricia Downs: Here are your winners, the team of CODY and ANDREW TRISTATE!
Steve White: What an upset! Cody and Tristate are really making an impact now.
Michael Rissi: That's not what I wanted to see at all! Givens should have steam rolled their asses.
We see John Chellios come from out of the crowd. He runs in past Givens and clotheslines Cody. Chellios has a large steal chain in his hands.
Steve White: John Chellios, what the hell is he doing here?
Michael Rissi: Well, this turn of events doesn't interest me at all. I believe he intends to inflict some sort of physical pain with that there chain...
Chellios gets in the ring and stands behind a celebrating Andrew Tristate. Tristate turns around and Chellios throws the chain at him. Tristate goes down and Chellios grabs the chain from the ground, wraps it around Tristate's neck and starts choking him out. The bell rings and the ref tries to stop him but he doesn't let up. Eventually Armando Cortez comes out with three other refs. The refs run down the ramp and into the ring. They break up the confrontation between Tristate and Chellios. Chellios rolls out of the ring and his music goes off.
Steve White: Wow I wonder what that's all about.
Michael Rissi: Chellios is a loose cannon, for some reason he thinks he's entitled to shit here... I didn't even think Chellios and Tristate knew each other but he must have a beef.
We see the refs helping Tristate up as we fade out to a commercial break.We come back from the commercial break and we see Rissi and Steve setting up for the next match. Steve has a bottle of water next to him and Rissi takes out his flask, taking a quick swig. We see Patricia Downs entering the ring.
Steve White: Well now were coming down to the good part of the show, the Mayhem Champion who lost last week is looking to redeem himself against Kail Etheniel.
Michael Rissi: Should be a good one Steve. After his loss last week I don't know if David GS is thinking clearly enough to beat your common household douchebag.
Stepping from behind the curtain onto stage just after the room goes dark and is lighted by deep muted blue flood and stage lights, fog machines build a curtain along the ramp; Kail steps onto the edge of the stage atop the ramp and smiles broadly to the audience looking clearly from one end of the stands to the other, idly whispering things to himself in a vacant sort of pantamime speading his arms wide out to either side as he takes in all his useless hateful fans. His entrance attire being an intricately designed black and dark blue accented hoodless sith robe. Designs along the edge of the sleeves catching and reflecting light from all around and as he walks down the ramp he sheds the robe and throws it into a well placed garbage can beside the ramps end. Before sliding in beneath the bottom rope to await or face his opponent. An idly place earbud headset worn at all times to mask his actual voice.
Patricia Downs: Ladies and Gentleman Introducing, From Kentucky... KAIL ETHENIEL!
Michael Rissi: This is what kind of weirdo David GS has to deal with! Steve what happened to the industry.
Steve White: Rissi, Kail is looking to prove himself here tonight, so what if he is a little... Unique.
The arena lights strobe white as "ULTRAnumb" by Blue Stahli hits the PA. A cloud of white steam billows up from the entrance, and after a few seconds David GS comes barrelling out, all fired up. The Phenom heads for the ring, coming to a stop halfway down the entrance ramp; he leans forward and then throws his arms up, flashing the Devil Horns as two arcs of multicoloured pyro erupt out of the stage behind him. Continuing on to the ring, he dives in under the bottom rope and slides into the ring on his stomach. Popping to his feet, DGS goes to the second turnbuckle and flashes the Devil Horns again. He hops back down to the mat and crosses over to the other side of the ring, climbing onto the first and second ropes and egging on the fans in the front row.
Patricia Downs: Introducing his opponent, From Omaha Nebraska he is the Mayhem Champion... DAVID GS!
Steve White: The Champ is here!
DING DING DING!
Match #5: Kail Etheniel vs. David GS
David GS and Kail Etheniel tie up in the middle of the ring. Etheniel wraps his right arm around David GS's head and begins pounding on the top of his head with his fist as hard as he can! David GS howls in pain and then Etheniel runs forward and drives his head into one of the turnbuckles. David GS collapses onto his back and Etheniel slowly leans against his turnbuckle.
Steve White: Wow that was quick right there, Blink and you'll miss it!
Michael Rissi: This is gonna be a good match is DGS can get his shit together and I know he can.
Etheniel stomps on the head of David GS. Then square across his face two times! David GS squeals out in pain and we see that his hand is over his nose to stop Etheniel from breaking it. David GS rolls out and Etheniel jumps onto the apron. He dives off with a double axe handle! Etheniel pulls David GS up by his hair and throws him head first into the steps! David GS begins crawling toward the announce table and he is groaning in pain as he is trying to find any possible way to turn this around. Etheniel runs at him and kicks him square in the ribs! He backs up and he does the running kick again! He then does it two more times and the ref pulls him back as he is trying to check on David.
Michael Rissi: Etheniel is in a whole new mode in this match. Maybe losing to Grant in this past week has forced him to improve?
Steve White: Don't count out David GS!
Etheniel pulls back his arm and elbows David GS across the top of the head! Then Etheniel grabs him by the hair and throws him back into the ring. Etheniel gets back into the ring and goes to pick up David GS. DGS acts quickly and hits a bunch of quick left and right hands on Kail. DGS boots Kail in the gut and then quickly suplexes him. Kail is dazed and barely gets to his feet. DGS bounces off the ropes and hits a big running STO on Kail.
Steve White: This is what I love about this match. David GS can come back at any moment and kick ass. He can teach Kail a thing or two right here.
Michael Rissi: That's right. David GS has skill and experience in EHWF. Kail, although he is a weirdo seems to have some skill as well.
Etheniel pushes David away but DGS comes back and knees Kail in the gut. Kail is hurt and DGS takes advantage by slamming him into the corner a few times then hitting a big boot to the chest of Kail.
Steve White: That might do it...
David GS walks back to the other corner and waits for Kail to get up. DGS signals for the Spear and Kail turns around. DGS bolts at Kail but Kail quickly dodges the attempt and clings to the ropes, leading DGS into the ring post, destroying his shoulder. Kail takes advantage and boots DGS in the knee. DGS, running off pure aggression gets back up straight away and headbutts Kail, DGS hits some big quick strikes on Kail then gets him in a headlock. Kail struggles but then discreetly pokes DGS in the eye without the ref's knowledge. DGS lets go and tends to his eye as Kail boots him in the gut and hits his Nightmare drop. Kail then quickly lifts DGS and rolls him up.

1...
2...
3!
DING DING DING!
Steve White: A second loss for DGS and probably the biggest win Kail may see here.
Michael Rissi: The poke to the eye was really warranted.
Steve White: Maybe it wasn't intentional? Maybe it was out of desperation.
Michael Rissi: Yeah I'm sure that's what it was... In my opinion this doesn't take anything away from DGS at all.
Kail's music goes off as he walks back up the ramp celebrating while we fade out to an unimpressed DGS leaning on the ropes in the ring.The scene comes back from a commercial break with Michael Rissi and Steve White talking down at ringside.
Steve White: So, it is now time for our main event of the evening. The North American Championship will be on the line tonight as Nathaniel Grant will take on Arthur Farrow. Farrow has proven himself very worthy over the past few weeks and tonight, he finally gets his shot at a title.
Michael Rissi: Honestly, he'll probably blow it. He isn't as good as he thinks he is.
Steve White: Well, that remains to be seen and we will find out if that is true or not right now. Let's go to Patricia Downs in the ring!
The camera then pans up to Patricia Downs, who is once again standing inside of the ring with a microphone in her hand, ready to call the main event of the evening.
Patricia Downs: The following contest is our main event of the evening! It is a singles match scheduled for one fall and is for the North American Championship!
"Hide Your Tears" excellently cues the arrival of a wrestler adorn by thousands, perhaps several million. Entering to no fireworks or flashy lighting, Farrow slickly forwards at a relaxed pace. Not to say he isn't focused, because he quite is. In fact, his demeanor subtly hides his concentration.
Patricia Downs: Introducing first, hailing from Coventry, England, standing at 6 feet and 2 inches tall and weighing in at 200 pounds, he is Arthur Farrow!
The opening notes to "3 Leaf Loser" begin to play as a bright flash of light is seen and in the after image Nathaniel's silhouette is seen standing at the top of the ramp. As the light fades away he reaches into his back pocket and pulls out a Bible. As he starts down the ramp he opens it and starts to read for a few steps before handing it to a random front row fan. He slides into the ring and then kneels in the center of the ring as if in prayer before looking at the referee and awaiting the bell to ring to start the match.
DING DING DING!
Main Event: Arthur Farrow vs. Nathaniel Grant (c)
Steve White: Here we go!
The match starts off with Nathaniel Grant and Arthur Farrow wasting no time at all. They both run at each other and meet in the center of the ring. Arthur Farrow spears Nathaniel Grant into the corner of the ring and begins hitting him with shoulder thrusts over and over again. The referee finally pulls Farrow off of him and when Farrow turns around, he gets hit with a huge clotheline by Nathaniel Grant, sending him flailing through the air onto his head. Nathaniel Grant then shakes his arms a little bit, as if loosening up, and picks up Arthur Farrow and picks him up onto his shoulders. He holds him up for a few seconds before powerbombing him over the top rope to the floor outside of the ring!
Steve White: Ouch! That had to hurt Arthur Farrow!
Michael Rissi: Damn right it did! I have been there before, it isn't fun. Though, i can take it like a man, Arthur Farrow probably can't.
Nathaniel Grant stands in the ring, looking down at the injured Farrow as the referee gets out of the ring to check on him. He checks on him and sees that Farrow is hurt, but can still continue the match, so he gets back into the ring and begins counting Farrow out. Nathaniel Grant isn't pleased with the match ending this way though, as he climbs to the top rope. He stands up on the top rope for a few moments before leaping off and hitting a swanton bomb straight onto the body of Arthur Farrow! Grant rolls over onto his stomach and kicks his feet and groans in pain as he took a hard fall doing that. Farrow rolls around holding his chest and stomach, almost crying from the pain he is currently in. Once again, the referee checks on both men.
Steve White: This match got off to a real fast start. Neither of these men will be able to even continue in another five minutes.
Michael Rissi: I don't think this match will even still be going in five minutes, Steve.
The referee decides both men are able to continue, even though Farow is almost crying from the pain he is in, most likely a few broken ribs among other things. Nathaniel Grant is the first one to get back up to his feet and right away he picks Arthur Farrow back up. He irish whips Arthur Farrow as hard as he can into the steel ring steps, causing them to fall apart and Arthur Farrow to fall to the ground again, this time, tears are actually running down his cheeks!
Michael Rissi: Haha! Farrow is actually crying! What a bitch! He doesn't belong in this company.
Steve White: He probably has multiple injuries, Rissi.
Michael Rissi: Oh come on! It can't be any worse than what i've had. I went to hell and back with Sah'ta Thor in his own creation! I just beat Lunatic in one of the best ladder matches of all time last week! Did you ever once see me cry? No.
Nathaniel Grant picks up Arthur Farrow again and throws him back into the ring. Farrow rolls to the center of the ring and Grant notices this and climbs to the top rope. He then does a perfectly executed moonsault off of the top rope straight onto Farrow! Farrow begins flopping around like a fish because of the pain he is in. Nathaniel Grant then picks him up and irish whips him as hard as he can into the corner of the ring, sending Farrow smashing his back off of the turnbuckles and smacking down onto his face! Grant walks over and begins stomping him repeatedly before the referee finally pulls him off. He then picks up Arthur Farrow and scoop slams him back into the center of the ring.
Michael Rissi: Grant is just having his way with Farrow now. This isn't even a real match anymore. I mean, hell, Grant made this guy cry!
Nathaniel Grant then signals for the end as he picks up Arthur Farrow and easily finishes him off with a Glory to the King! Farrow lays motionless, almost having a seizure in the center of the ring and Nathaniel Grant ends the punishment and goes for the pin. 1...2...3!
DING DING DING!
Patricia Downs: The winner of this match, and STILL North American Champion, Nathaniel Grant!
Devil Inside [Part 3]: Greed & Wrath
The main event had just ended and Nathaniel Grant stands up tall grabbing a microphone. He places the North American Championship around his waist before sliding out of the ring ropes as he whistles sharply into the microphone. A moment passes the opening notes of Kail's music hit only to be silenced as signals for it to stop as he starts down the ramp. Seeing Kail approaching from the back Nathaniel slides back into the ring and turns to face the man.
Nathaniel Grant: Since you're headed this way can you bring that trash can with you?
Nathaniel steps back with a smirk as he waits for some sort of reply from the other man.
Kail Etheniel: No problem bro, I think I see where this is going....Bout time you accept this flop of a streak is over... This place needs the real you... whether they accept that fact or not.
Kail jogged lazily down the ramp grabbing up his well placed trash can and continued on half running to the ring as he lifted the can up for Nathaniel to grab and quickly pull over, as he slides his microphone under the ropes before he'd climb up and launch himself over the ropes and land squarely on his feet near to Nathaniel with his excitement obvious by his jittery idle hand shakes and fist clenching. A moment later he'd high five the North American Champion and nods his head for Nathaniel to continue.
Nathaniel Grant: Why thank you Kail, I think it is time to enlighten the confused masses. As I am sure none of them have yet to figure out what it is that's going on here. Or if they have they are just too blind to accept that what they are seeing is the truth.
Kail Etheniel: All too right old friend, we've tried on multiple occasions to let them in on the truth, I made as direct a reference to the truth as I could without outright revealing the situation to all those ignorant simpering idiots; But that's enough goading their stupidity, lets just get this over with shall we...
With that Nathaniel turns and hands Kail his microphone to hold before reaching into the trash can. A moment later he pulls out a black leather trench coat. The North American Champion puts the coat on and then slowly turns so that the red emblazoned "Empire of Blood" words are plainly seen for all to read. A hush had fallen over the arena as Grant looks down at the trash can he starts to laugh in pure amusement as he lifts his head to stare out at the crowd.
Nathaniel Grant: Now I have no doubts that a majority of you pond scum in the audience have no fucking clue what is going on. Well if you pay attention and avoid the urge to go buy another hot dog from the concession stand you might be able to understand what is going on. Okay from the top, I am the North American Champion and have been since my debut at Sudden Death as an unknown contestant. I don't know how many of you are wrestling fans but how many people do you know who debut in title matches? Or has anyone even bothered to wonder about that? Here let me help you out on WHY I got that match.
With that Nathaniel lowers his head so that he was looking into the trash can and then reaches up to grab his face mask quickly ripping it off, just as Kail would remove the small ovular ear piece from his ear and his own mask in kind. Now tossing it into the trash can and passing over a zippo lighter to the North American Champion with a laugh and lifting the microphone and spoke.
Kail Etheniel: I'm done with this behind the mask bullshit... I'm sick of claiming to be your idiots voice of truth... I don't care if you know the truth, cause I know the truth and here is the truth. Our good friend here..... And myself are going to take this company straight to where WE know it needs to be...Isn't that right buddy?
Nathaniel looks at the white and gold mask in his hand then drops it into the trash can before lifting his head. As he does so his long black hair seems to mat on his face. He reaches up up and pulls his hair back from his features to reveal a long absent face. The face of none other than former EHWF Hardcore Champion Sah'ta Thor. Thor stands there with a smirk on his lips as the fans seem to take a collective breath.
Sah'ta Thor: How does it feel to have fooled for the last six months? I mean come on how many clues do you all need? I put it out there for you morons to figure out from the move list to the...
Kail Etheniel: Speaking of which can I start doing my thing my way now, since they didn't catch that either?
Sah'ta Thor: As I was saying, you morons need to have things spelled out for you. I planned this out from day ONE. You see Rissi wants to go around saying he one upped me in the Escape from Hell Match. Yet, the simple truth is that by his throwing me off the top of the cage I was free to escape the self-imposed conformist hell that I had allowed myself to fall into. So having already planned for if I lost my created match type I had a contract prepared that allowed me a chance to reconnect with my true self.
As Thor made the comment of being "one upped" Kail's cell phone would ring three times each time repeating the victory music from the classic PlayStation game Final Fantasy VII (7) before Kail would pull it out and and flip it open then close in a quick motion before putting it back in his pocket and nod to Thor to continue; As Thor made his final comment regarding the conformist hell he had inadvertently been pressed into and the consequential precautions he had taken in case he had lost Kail lifted his microphone to make his own comment.
Kail Etheniel: Yeah bro' I can see that happening real easy in this place, I mean we got the hardcore headache, the world champion of donut eating.... Runs circles around his ego till he cant stand up anymore and don't even get me started on Corporate.... Fuuuuuck...... ha ha ha.
Sah'ta Thor: So as I was saying, I have been here since Sudden Death and well as we all know I have defeated EVERYONE who has faced me. Which brings me to a point of contention I have you fucktards and your powers of assumption. NEVER once did I comment on what religion I was following, sure I carry a Bible in...
"The church of the flying spaghetti monster and Satan and Star Trek all have bibles dumb asses.... Oh even Scientology if you can call that a religion, I call it one bad pill party but yeah, do continue though Thor..."
Sah'ta Thor: Thank you Kail, as you helped me illustrate there are multiple religions with a Bible. Hell even the Christians, all how many sect and denominations there, can't agree on how to use the Bible. Mormans, Jehovah's Witnesses, and Athiests all have Bibles. Have I made my point yet? Hell even if I haven't I have better things to do with the rest of my night.
A chuckle broke the comments tension rather evenly as Kail lifted his hands to push his hair back behind his ears before he'd lift the microphone to his lips and comment.
Kail Etheniel: You grab the vodka and I'll get the Halo, we'll meet up at the penthouse... Make sure to give me a heads up if you plan to invite my daughter this time though bro' SERIOUSLY!
Sah'ta Thor: Well you do know she moved in right?
Kail Etheniel: Thor, I'll talk to you about this later tonight; I gotta go talk to a man about Nya's disappearance.
Thor chuckles and holds up a hand silencing Kail as he shakes his head slightly. It was time to get this thing to next revelation. He reaches down and pulls the North American Championship off of his waist and lifts it high into the air. He stands there for a few seconds before taking a deep breath.
Sah'ta Thor: Now we have ourselves a small problem. A problem that I had hoped would be taken care of tonight by Farrow but well he fell way short of the mark. Last week I beat Kail here in his debut match up. This week he rebounded and pinned DGS, the EHWF World Champion. Which brings me to a question, if Kail beat DGS cleanly and I have beaten Kail cleanly, shouldn't I get a shot at DGS?
After patiently waiting for his old friend to finish his lead along line of questioning Kail would again raise his microphone and continue the line with his own commentary.
Kail Etheniel: I'm pretty sure at this point Thor, even that psyche ward escapee Magnus could beat that kid now... As for your beating me, we both know well enough in the end I let you win that.... If you don't mind by the way I'd like to take this opportunity to publicly announce something I've wanted to say...
Sah'ta Thor: Oh never mind I have something to say. Bloodbath is in two weeks and last I heard our World Champion needs a challenger. Well folks here it is DGS keeps saying he is man enough to put his belt on the line to any comer. Let's see if he is man enough to put his championship where his mouth is at Bloodbath. Which leaves us with one final piece of business.
With that Thor kneels down laying the North American Championship in the center of the ring. After about ten seconds he stands up to finish his thoughts as he flicks the lighter in his hand.
Sah'ta Thor: Now that the truth has been revealed and my intentions have been clearly made it is time to do one last thing. For six weeks I have held the North American Championship and have remained undefeated. Tonight I walked into this arena as the North American Champion and I retained the belt allowing me the right to walk out as such. However, in order to make my intentions towards the EHWF World Championship plain to all of you in the stands I am making it clear that my days as the North American Champion are done. I am hereby vacating the EHWF North American Championship effective NOW.
Kail Etheniel: I may want the hardcore title WAY more then I want this thing but trust and believe if it cuts me a new notch to fill on my resume of achievements. I refuse to have it be gifted to me I prefer to beat those punks who think themselves good enough into submission and EARN IT! With that said I'm gonna finish my earlier statement.... anytime.... anywhere once I have that belt.... I will take any comers to defend it... Bring you bunch of pathetic panty wastes....
With that Thor looks towards Kail with a twisted smile as he drops the lit lighter into the trash can causing both of their masks to burst into flame as the show goes off the air the blazing blue letters play across the screen.
The Conversion Has Already Begun....