Post by La Familia Gómez on Sept 22, 2012 15:38:42 GMT -5
EHWF & THQ Present
War 9/30/2012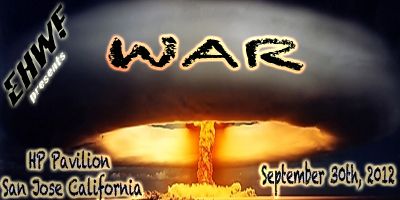 [HP Pavilion]
[San Jose, California, USA]
Sunday; September 30th, 2012
Deadline: 6pm EST
RP Limit: 2 Per Person
Theme Song: ["Invincible" by Machine Gun Kelly]
-----------------------------------------------------------
Match #1
[non-title]
[handicap]
Rockin' Lunatic vs. The 'Shiners
The 'Shiners have been given one more chance to do something with their careers here in EHWF, and if they don't impress management in some way, they will be out the door. Rockin' Lunatic has been given the assignment of taking them both on in a two on one handicap match. If the veteran can take care of The 'Shiners, they will be gone and it could give him new life here in EHWF.
-
Match #2
[non-title]
[divas singles]
Jessica Seaton vs. Whitney Wyld
With the vacant Divas Championship getting a new owner later in the night, this match will see who could possibly be the next to challenge for it. Jessica Seaton was in the triple threat match and was pinned, so she did not get the Divas Championship match she was looking for, but she still put up a valiant effort and impressed EHWF management. She will have to face off against the returning Whitney Wyld tonight.
-
Match #3
[non-title]
[singles]
Sheamus Moses vs. Raven Blackheart
This could be Raven Blackheart's final oppertunity to impress EHWF management. If he fails to do it, he could be out the door. Sheamus Moses looks to push him out the door tonight. Sheamus has been undefeated since coming to EHWF, with a perfect three and zero record. Raven Blackheart has been anything but impressive since coming back and Sheamus looks to keep his winning ways going with a win tonight.
-
Match #4
[non-title]
[hardcore triple threat]
Sujir Thorn vs. David Ashburn vs. Scrambles the Death Dealer
Sujir Thorn and David Ashburn obviously have a problem with each other and tonight they will have a chance to settle it. With one other person involved in the match looking make his way up the ranks and get a title shot as well, Scrambles the Death Dealer. While Scrambles didn't look impressive last week in his return match, EHWF management knows what he can do from previous tenures here. Sujir Thorn and David Ashburn want to rip each other apart though, so will Scrambles sit back and let them? Or will he get himself involved quickly?
-
Match #5
[divas championship]
[singles]
Madison Murdock vs. Devlyn Raine
These two divas were in the same triple threat match on Mayhem to decide who would be facing off for the divas title at War. Jessica Seaton was pinned by Madison Murdock so that means Madison and Devlyn will be the two divas to go one on one for the Divas Championship. While these two just fought for the first time on Mayhem, this could grow into something more than just a match or two. We will have to wait and see how it turns out.
-
Match #6
[north american championship]
[triple threat]
Frank Finelli vs. David Arnold vs. Casey Bond
All three of these men have proven that they deserve a title match and Frank Finelli was told a month ago that he would get his title rematch. With the horrible death of Korey Kill, the North American Championship became vacant and now these three men will face off to decide who will be the new North American Champion. David Arnold's EHWF career is just getting off to a start, but he has already looked impressive enough to put himself in the title picture. Which one of these men will walk out with the North American Championship?
-
Match #7
[mayhem world championship]
[anywhere falls]
Scorpion vs. Raven Trueblood
For the second Pay Per View in a row, the EHWF Chairman will be in a match. After the brutal ending to the Scorpion and Sujir Thorn match last month, Scorpion looks to have this one go smoother. Raven Trueblood picked a fight with the chairman and now the chairman is fighting back. With Scorpion not wrestling full time in about 10 months, does he have what it takes to beat Raven Trueblood? This one is sure to be personal.
-
Main Event
[anarchy world championship]
[buried alive]
Sah'ta Thor (c) vs. Black Man
By far the most hyped and looked forward to match of the night will be this one. Sah'ta Thor and Black Man will finally settle their differences tonight in a very rare match to see in EHWF, a buried alive match. Black Man asked that he could pick the match, EHWF management allowed it. Will this put Sah'ta Thor at a disadvantage or will this prove to be a good thing for Sah'ta Thor? Black Man is undefeated in this match type in his career. This match could very well decide the final Anarchy World Champion, as after this Pay Per View, Anarchy might not be around any longer. Having your name as the final champion should push both of these men to fight like they have never fought before and avoid being buried alive.
-Card Final-
Send any segments you want added into the results to Scorpion or John Swaggah.