Post by Fernandez Gómez on Mar 15, 2013 22:44:02 GMT -5
The scene opens up as the fireworks begin to go off in the arena and the official opening theme song of EHWF Friday Night Mayhem, "Hurt Somebody" by Akon, is playing over the PA system.
The camera pans around the whole arena, showing all the screaming fans on their feet ready for another night full of action. After a few moments of the fans going crazy, the camera pans down to ringside, where the best announcers in the business, Steve White and Chuck Thompson, are both sitting.
Steve White: Welcome to EHWF Friday Night Mayhem! I'm Steve White and as always i am joined by my broadcast partner, Chuck Thompson! Chuck, tonight we have quite the card with a lot of things riding on a lot of these matches.
Chuck Thompson: No doubt about that. So much action to look forward to tonight including the main event. Which will be Pay Per View opponents teaming with each other. Drake Coleman and Mayhem World Champion, Black Man, will team up to take on Jason Dave and James Serenity. No doubt four of EHWF's best in the same match will be awesome to watch.
Steve White: And the co-main event is going to be a fatal four way match with Tyler Gates, AJ Flare, Domenic Mazzio, and the Hardcore Champion, Sah'ta Thor. No doubt that will be a great match because Sah'ta Thor hasn't had the best of luck recently in the ring and Tyler Gates looks to get back on his dominant streak he had going before losing to Black Man at Meltdown.
Chuck Thompson: And don't forget about the divas! God i love the divas, Steve!
Steve White: Yes, i know you do, Chuck. Too bad they don't love you back. But, we have gotten some new faces in the evergrowing diva division here in EHWF. So it will definitely be fun to watch them climb up the ladder to the Divas Championship and possibly other titles as well! Let's get this show on the road!
The arena goes quiet for a brief second before "Step Up" by Drowning Pool begins to play. The entrance song and video for EHWF Owner Scorpion is playing. A few moments go by before the music cuts off. The sound of a microphone is heard cutting in and out.
"Can you hear me... THERE WE GO BINGO!"
From behind the curtain walks EHWF superstar and former ECWF World Champion, Tyler Gates. He has a smirk on his face as the fans are going crazy for him. He is wearing a shirt with the G.I. Joe symbol and reads: "Cobra Commander"
Tyler Gates: Ha Ha, I got ya!
He shakes hands with fans and smiles at them as he makes his way down to the ring. He gets in the ring and waits for the crowd to quiet a little before speaking.
Tyler Gates: So this is unexpected right. Tyler Gates is in the Mayhem ring to cut a promo, right? WRONG! Well I guess that just shows that I am not one for doing what is expected. And no I am not out here to cut some boring ass promo about my match later against the three jackasses that EHWF had nothing else to do with so they through them all in a random match that makes no sense. At least not to me. You have a guy who shouldn't even be in a ring until he goes back to wrestling school and learns to wrestle. Another one who hides behind a suit. And the last one is supposedly the champion of hardcore, when the most hardcore thing he's accomplished was bringing daddy issues to the ring. Now I know this is supposed to be entertainment and all, but nobody cares about these three goofballs. What they do care about are people like Michael Rissi, like Adam DePaolo, like ME! And I was going to let things slide after Meltdown but I got to thinking about everything and I realized I was ECWF Champion heading into that match in which yes I lost, sue me. But if my memory serves me well I am entitled a rematch. And I think I a more than deserving, more deserving than say Drake Coleman or James Serenity.
The crowd pop at this as he paces around the ring looking around at all the fans in attendance.
Tyler Gates: I came to EHWF and brought a level of relevancy that actly connects with the fans and Scorpion knows it but yet they throw me in ridiculous matches which everybody knows I am going to win. I mean come on Scorpion, look around buddy. Look at EHWF, you have the talent but what about the look. I look around EHWF and I see a bunch of Microsoft Paint kind of posters where as the talent here deserves Photoshop. I love the red logo but I see more red in EHWF then James Daniels does when he is PMS'ing. Yes I went there. Now I didn't invent the rainy day guys, I just happen to be the guy handing out the raincoats. Again speaking of raincoats, if Thor's dad, uncle or whatever would have wore won, we would have been sparred at Meltdown. See Thor should be the poster child for legalized abortion, woman... it could happen to you. That is if you screw your brother, uncle, neighbor, mailman, cousin or joe down the road.
Again the crowd cheer as a chant beings to echo around the audience "JERRY JERRY JERRY" Tyler Gates laughs at it before continuing.
Tyler Gates: See I told you week and week out exactly what I would do and I did just that. Each time you throw an opponent at me, I come out on top. And that's where I deserve to be, and until I get my rematch that I am so rightfully entitled. I am going to continue to be a thorn in your side Scorpion, oh wait Scorpion isn't running EHWF right now because somebody failed at getting their job done. They must have hired Frank Finelli or AJ Flare or some other nobody that can't seem to put together a simple sentence structure. And with Scorpion sidelined, I guess it's anybodies show. So I am going to go on and on until somebody can give me what I want. Hell, if you ask me it's time we had a change of authority around here. The asshole puckering conservative shit is starting to get old. I personally would vouch for John Swaggah and although I am not a fan of his bodyguard of which I will beat around this ring like a fat little creampuff, I do think that he can deliver what the EHWF needs... Entertainment. So, the board of directors needs to send a text, e-mail, or hell even Morris Code because I want an answer and I want it now. Do I get my rematch or not, and when?
Tyler drops the mic and does jumping jacks in the ring as the crowd pop hard. He stops and points to his wrist gesturing that time is ticking. He rolls out of the ring and begins to do cartwheels around it before rolling back into the ring. He grabs a microphone again.
Tyler Gates: Nothing? Really. Oh that's right Scorpion is in a hospital bed so the board is running around with their heads up their asses because their Cobra Commander is pissing in a bag. See they don't know how to makes any decisions of their own because they are to used to him telling them what to do like everybody else. Sorry I'm not that guy. I am out here to prove a few points. One, I know I wouldn't get results if I didn't and Two, No body on that roster sitting in the locker room back there can do this. And because they can't do it they don't do it. Name one guy back there that has the skills to cut a segment like this. I can't remember seeing not a one recently that wasn't put together by the talentless script writers that run this. You guys should give it a try sometime, speaking from the heart rather than a prompter. So let's make this simpler shall we. While Hitler is fighting for his life and the little nazi bastards are running around not knowing what to do, how about I just ask the champion himself. What ya say Black Man, huh Adam. How about another go around after you beat Drake at Bloodbath? You know I want it, you know the fans want it, you know the EHWF NEEDS it, and you yourself Adam. You know you want it too. So what's it going to be champ?
A few moments pass before EHWF security come walking down the entrance ramp. Tyler Gates begins to laugh in the ring as about 6 security guards ask him to leave the ring. Tyler looks around and nods his head while still laughing. He does exit the ring, though. He is then escorted back to the backstage area by the security while the fans boo them and cheer Tyler. The scene fades to a commercial break.The scene comes back from the commercial break as the crowd is all sitting patiently waiting for the starting contest of the night. Their eagerness obvious to all those watching at home! The form of Patricia Downs has climbed into the ring and is looking up the ramp.
Steve White: Well Ladies and Gentlemen we are getting ready for our first match of the Mayhem card! I hope that everyone is ready for a night filled with action! We come here tonight to welcome you all with a match between two teams of divas and I'm sure they won't disappoint you! We have our lovely Patricia Downs in the ring and I hope your all ready for this very heated match up! Lets take it to our announcer!
Patricia Downs: Introducing first as a team at the combined weight of 222 pounds..they are the team of Pandora and Aphazel..they are the Devil's Rejects!
The fast pace guitars blare out "115" by Elena Siegman as the arena goes pitch black, the lights keep little view as they begin to flicker. Purple smoke begins to fill the entrance as Pandora and Aphazel walk on either side of Devil Bill. Devil Bill limping down the entrance with his cane, Aphazel by his arm. Pandora carrying her stuffed rabbit, and roller chest behind her.

As they approach the ring, Pandora gives the handle to her roller chest to Bill and her Rabbit before they slide into the ring. Devil Bill rest up on the chest leaning on his cane as his daughters get ready.
Chuck Thompson: Pandora has been on a losing streak ever since losing to the diva Heather Helmsley. Her partner Aphazel has been out of action as well and one could say that both are at a huge disadvantage going into this contest. I would have to say that I don't believe these two can come back and beat their opponents here tonight in tag action.
Patricia Downs: Introducing their opponents..first hailing from Las Vegas Nevada..she comes in at the height of five feet and eight inches..she comes in weighing at one hundred thirty five pounds. She is the one known as Ashley Posion!
The heavy guitar beats of the song Poison by Alice Cooper starts to blare.Then,the drum beats fill the arena. That's when the beautiful Ashley Poison starts to come on out being accompanied by her manager Martini Stine.They walk past the fans with devilish smiles on their faces. When they get to the ring, Martini helps the beauty get in the ring & she thanks him. She gets in the ring & flips the fans off.She goes to each side of the ring & does a arm extension. Finally,she hops off of the ring ropes & stand by her manager to talk about the match that she's due to wrestle in.
Chuck Thompson: Since debuting last week Ashley Posion hasn't really been graced with much attention from the fan base as she has had very little to be liked for. She showed promise but was stomped out by Brandy Allen last week. Hopefully she will do better this week!
Patricia Downs: Introducing her partner..she comes in weighing in at exactly one hundred pounds..standing at five feet and a inch..she is from Chicago Illionois..and she is known as..MELODY LEE!
Smoke comes on the stage. Melody Lee's music starts to play. She comes out in a I love Rissi shirt and waves around to the crowd. She slides in the ring and gets ready for the match.
Steve White: Now this girl is a complete disgrace to the wrestling industry. She isn't even here for a victory over anyone, but she's here for a lust she has. To get laid..nothing further than that!
DING DING DING!
Match #1: Pandora & Aphazel vs. Ashley Poison & Melody Lee
Ashley Posion slowly walks into the middle of the ring as Melody Lee slowly goes to the apron only to be pulled down by Aphazel! Melody and Aphazel are trading blows back and forth as they begin to brawl up the ramp way! Melody throws Aphazel into the barrier between them and the fans on the ramp way! Melody is landing stomps on her chest and the ref drops to the outside to break up the fight. In the ring there is a totally different matter. Pandora is trying to choke Ashley Posion by stepping on her back and sending her throat into the middle rope. The form of Pandora is glaring down at her opponent who is grasping at air! Pandora lifts herself up suddenly and stomps across her back harshly! Pandora and kicked her across the gut to make her flip over. Proceeding to wrap both hands around the little woman's throat. Pandora is hissing as she is trying to take advantage of Ashley's current state. The ref is finally able to pull Melody off of Aphazel who is holding onto her ribs in pain. Pandora lifts herself off of Ashley with a smirk as Melody runs into the ring with cheers!
Steve White: Well things have started off with a lot of heat between these four women to say the least Chuck! I don't know who to claim did the best job there, but it's obvious that Ashley Posion and Melody Lee both need to be careful of their opponents in the Devil's Rejects. They are sneaky and know how to distract a ref in this type of situation. There is no way in gods green earth that either of these women can have eyes in the back of their head.
Melody Lee and Pandora meet in the middle of the ring with simultaneous chops! Pandora hisses and falls back into the ropes as Lee falls back into the opposite end. They run at each other and both connect with forearms! Melody Lee stumbles into the corner and Pandora simply runs through with a clothesline! Pandora grins from ear to ear and looks down at Lee's head before spitting on her. Pandora runs forward and drives her head first into the mat! Pandora is grinning from ear to ear as she backs up into the corner..taunting her opponent who is staggering to her feet!!
Chuck Thompson: Pandora has Melody in trouble!
Suddenly Pandora is pulled down and pulled into the ring post! Pandora rolls to the outside and Maddie Murdock slips into the ring with belt in hand! She nails Melody Lee upside the head and lays her out!
DING DING DING!
Steve White: Wait a second..what the fuck? WHAT JUST HAPPENED?
Patricia Downs: The following contest has been ending due to a double disqualification!
The scene then fades to a commercial break with Maddie backing back up the entrance ramp.The arena is filled with fans who are all on their feet as they are all ready for the second contest of the night. Many of them still pissed about what happened in the last contest. The announcer is standing in the middle of the ring as she is ready to introduce the fighting wrestlers.
Steve White: Now this contest is going to be another lovely inter gender contest which I hope isn't going to disappoint. We have Mac Daddy versus Heather Helmsley in what looks to be a very nice contest for all of our fans!
Patricia Downs: Introducing first...she hails from Hartford Conneticut...she comes in standing at five feet and seven inches. She weighs in tonight at one hundred and sixty five pounds, Heather Helmsley!
Heather creeps out onto ramp and stands there, arms stretched out side by her side. She raises her arms up with two fingers up (together), with thumbs out, she takes in the cheers, and struts down to the ring. She then does the same thing on the ring apron before entering the ring.
Chuck Thompson: Now Heather has had what many would call a very amazing month. She has given her best to our diva's champion in Maddie Murdock in what many would call the best contest in our diva history. Many would go as far as to say the girl has gone places thanks to her new mentor. I won't go as far as to say that because she is still the same woman in my opinion. She just doesn't take shit off of anyone anymore. That being said I'd have to believe that is phenomenal.
Patricia Downs: Introducing her opponent...he hails from..
Mac Daddy comes out before Patricia can even finish and rushes down to the ring. Rolling into the ring he runs at Heather and catches her with a clothesline! Heather picks herself up and Mac Daddy runs at her and lands another clothesline that sends her over the top rope! She catches her self on the apron!
Steve White: Well Mac Daddy not taking much time here as he has rushed his ass down to the ring! Looking to catch Heather by surprise and so far it's worked!
DING DING DING!
Match #2: Heather Helmsley vs. Mac Daddy
Heather ducks under a boot that Mac Daddy runs into the top rope for! Heather pulls him over onto the apron! He grabs her arm and jumps off the apron sending his head crashing across the apron! Heather spits on the floor. Mac slowly rolls off the apron only to be grabbed by his hair and sent flying into the steel steps! Mac Daddy is holding his nose as he rolls in pure pain! Heather slowly walks toward him and Mac catches her with a uppercut! Mac slams her head first into the railing! He proceeds to follow up with several punches across her head and this time he is starting to actually land the combinations! Heather falls backward and Mac is grinning form ear to ear. Humping the rails as he howls to the girl fans who he seems to think he turns on. He doesn't notice a head poke out from under the apron which quickly disappears again. Hooking his fingers into the hair of Heather Helmsley and throw her into the ring. Mac Daddy is making fun of the situation which the fans boo to!
Steve White: Now Mac Daddy has complete control at this moment and many would say that this could make the entire match seem like a joke. To be honest I hope his mouth gets shut by someone even if it isn't by Heather Helmsley His a disgusting little pervert and that by itself means enough to me!
Mac Daddy catches Heather on her way back up with a clothesline and knocks her on her ass! Mac begins to stomp across her nose time and time again! Heather howls in pain and rolls away from the wrestler known as Mac Daddy. Mac wraps his hands in her hair and pulls her up from the mat and looks into her eyes. A grin forming across his face. His form slowly turning to look at each end of the crowd. Heather slaps the shit out of him! Mac Daddy growls out and shoves her into the corner. Grabbing her hair he doesn't notice the ref who is pulling him to get off of her Mac lifts his hand to punch the shit out of her and receives a kick in his nuts! The ref is also hit by this and collapses onto the mat in agony! Heather runs her hands through her hair and she looks up to see Drake Coleman who has pushed his toy Tristy into the ring. Heather slowly walks toward it and Mac lands a clothesline from behind on her! His hands running through his hair as he grins from ear to ear. He taunts the fans and he is smiling wildly. He is hoping for Heather to get back up and Drake is walking back up the ramp way! Heather begins to stumble to her feet holding the back of her head!
Chuck Thompson: I know Coleman didn't just give Heather a weapon and leave right after? That isn't like the Prophet's to say the least! I didn't even see him come down to the ring mind you, but all the same it's strange! Drake could of came in and destroyed Mac Daddy, but look at this situation! Mac is about to drill Heather into the mat and finally win this contest! THIS IS BEYOND WRONG! A pervert beating Heather Helmsley will never be let down by any member of the ehwf fan base!
Mac Daddy hooks Heather's hair from behind and he recieves a elbow to his noggin! Mac Daddy stumbles backward and is suddenly hit by a speeding truck from behind! AGE OF SERENITY ACROSS LUCKY TRISTY! James Serenity rolls out of the ring pulling out the toy with him and Mac Daddy is laid out in the ring! Serenity is grinning from ear to ear petting the little toy Drake had left as he backs up the ramp. The ref begins to slowly move in the corner as he is still holding his groin in pure agony.
Steve White: Well shit! This is why the Prophet's are such a insult to this company! Mac Daddy had this match won and look at this shit! Mac Daddy was just laid out by a wrestler who isn't even in his match! James Serenity and Drake Coleman have just shown that they have planned ahead. If I was Black Man or Jason Dave I'd take this as a example of how well I can trust either of them. Stick to the game plan of survival. Fuck your partners because quite honestly there not important.
Heather slowly picks herself up as Mac Daddy is trying to lift himself off the mat. Heather shakes her head and hooks his arms as he lifts himself into the proper position. She hits a Heartford Heartbreaker in the middle of the ring! Shades of her brother HHH! Heather rolls him over and hooks both legs as the ref crawls over to count the pin attempt!

1!
2!
3!
DING DING DING!
Chuck Thompson: Way to go Heather Helmsley! A well deserved win! Well deserved indeed!
Patricia Downs: Here is your winner via pinfall..HEATHER HELMSLEY!
Heather picks herself up and off the pin attempt as she shakes her head. She slowly exits the ring and begins to back up the ramp shrugging as the fans are all booing her. She turns and begins to head up the ramp way. Her hands on her hips as she cuts through curtains. With this the scene cuts to a commercial break.We come back from commercial. Patricia Downs is in the ring with a mic.
Patricia Downs: This following divas contest is for one fall!
The song Heartbreak Blvd by Shotgun Messiah starts to blast over the PA system. Suddenly, Ariel Michaels starts to come out and stand at the top of the entrance ramp, doing a devil horn stance. After that, she walks past the fans and has an evil smile on her face. She gets to the ring apron and gets inside. She does the same devil horn stance and waits.
Patricia Downs: Introducing first… Ariel Michaels!
The Lights inside the arena dim and 'Unstoppable' performed by Kat Deluna; The theme of Aubree Celeste blasts over the PA System. Much to the arena the crowd get to their feet to witness Your Sweetest Nightmare; Aubree Celeste make her way through the black curtain as the crowd begin to have mixed reactions a smirk appeared on the beautiful blondes face as she raised her hands up to ignore the comments that are being heard as she made her way to the ring walking up the steels steps and walking along the ropes as she climbs into the ring and walks to the ropes she looks out at the crowd as the crowd boo her she smirks blowing a kiss and turning her back on them as her theme fades out.
Patricia Downs: And her opponent… Aubree Celeste!
DING DING DING!
Match #3: Aubree Celeste vs. Ariel Michaels
Aubree Celeste stares at Ariel for a few seconds before moving forward with an amused smile on her lips. She reaches back and slaps Ariel across the face before following up the move with a dragon leg sweep. This causes Ariel to fall back but as she does her body spins as she tries to counter with a spinning heel kick. Both women land on the mat but Ariel is a hair faster on moving. She goes for the pin attempt while Aubree Celeste lays there a bit dazed.
Chuck Thompson: Ariel is looking to steal this one with a quick pin attempt.
Steve White: Well both women have show great athleticism so far.
Aubree Celeste get her shoulders up before the one count and bucks her body to get Ariel off of her. This causes the two women to separate for a few seconds as both get back to their feet. Ariel lunges forward and tries to connect with a clothesline. Aubree Celeste catches her arm and uses the momentum to drive Ariel to the mat. Once on the mat Aubree Celeste follows the motion through pulling Ariel's arm behind her back. Before Aubree Celeste can get the move locked in Ariel reverses them and goes to lock in a side headlock.
Chuck Thompson: Either of these talent women could keep me warm any night of the week.
Steve White: What a knowledge of the holds by these women.
Chuck Thompson: I have a few holds I would love to have them reverse for me. Like the Thompson dick hold but you wouldn't know that one you fag beast.
Aubree Celeste seems to freeze up as Ariel applies the hold. Ariel doesn't see the smirk on Aubree Celeste's lips and pays for it as she lightens up the headlock. Aubree Celeste suddenly moves slamming her elbow into Ariel's gut repeatedly causing the hold to be completely broken. Aubree Celeste gets to her feet and then quickly yanks Ariel to her feet before Irish whipping her into the corner of the ring. From there Aubree Celeste back fists Ariel across the face.
Chuck Thompson: Ariel is bad shape here but I wouldn't count her out yet.
Steve White: Well like I said these women sure know how to move.
Before Ariel can react Aubree Celeste tries to drag her into the center of the ring. Ariel counters with a sunset flip to the side. Aubree Celeste turns right into a headscissors takedown which Ariel follows up with a quick figure four submission. Ariel locks in the hold but Aubree Celeste grabs the bottom rope causing the referee to pull Ariel away. Aubree Celeste slides under the ring rope then moves to the corner turnbuckle and climbs up to the top rope. Once there she waits for Ariel to get back to her feet. Ariel is on her feet looking away from Aubree Celeste playing her fans. Aubree Celeste launches off the top ropes and lands on Ariel's back locking in a surprise camel clutch! Ariel reverses it and tosses Aubree off her. Ariel then runs up and hits Aubree with a side kick to the head and covers!

1…
2…
3!
DING DING DING!
Steve White: Ariel picks up the win.
Patricia Downs: The winner of this match, by pinfall, Ariel Michaels!
Ariel celebrates for a moment then walks back up the ramp as we go to commercial.We come back from commercial and Patricia Downs is in the ring with a mic.
Patricia Downs: The following intergender tag team match is for one fall!
I need a doctor hits and Quinton Hughes comes out with Dan Sager. They walk out and get in the ring waiting for Frank and Madison.
Patricia Downs: Introducing the team of Quinton Hughes and Dan Sager!
Man Eater hits the PA system and Madison Murdock runs out and bolts down the ramp sliding in the ring and getting ready for her match in the corner.
Patricia Downs: And their opponents first… The Divas Champion, Madison Murdock!
As "Bad To The Bone" begins to play over the PA system, Frank Finelli walks out onto the stage. Black and gold spotlights shine down and illuminate him and the ramp leading to the ring. The crowd greets him with mostly boos as he stands there for a moment and smirks at their response to his appearance. He slowly starts to walk down the ramp, the metal plating echos with each step of his boots as they come in contact with the ramp. As he reaches the ringside area he ascends the steps and stands on the apron for a moment and then steps through the ropes and enters the ring. He climbs up to the top of the turnbuckle and taunts the crowd as black and gold pyro erupts from the ring posts and into the air. They continue to shower him with boos, then he hops back down to the mat and waits for the bell.
Patricia Downs: And the North American Champion, Frank Finelli!
DING DING DING!
Match #4: Madison Murdock & Frank Finelli vs. Quinton Hughes & Dan Sager
The bell rings Finelli runs up and spears Sager. Sager goes down hard but Finelli picks him up and just starts beating him up. Finelli then tosses him into the corner and Sager goes down to the mat.
Chuck Thompson: By Gawd!
Steve White: Sager getting raped right now Chuck!
Finelli hits Sager with a big running STO then hits him with 3 powerbombs. Quinton is raging on the apron.
Chuck Thompson: Quinton is raging. Sager is done!
Steve White: Easy match for Frank right here.
Finelli ends up scoop slamming Sager and picks him up for Finelli Fatality but Maddie tags herself in and Frank is pissed. Maddie runs in and Sager goes to tag in Quinton but Quinton punches Sager square in the face and Sager drops to the mat. Quinton gets off the apron and ditches Sager walking back up the ramp. Maddie covers Sager.

1…
2…
3!
DING DING DING!
Chuck Thompson: Maddie and Frank win!
Steve White: I would still like to fully know why Maddie attacked him last week.
After the match featuring Frank Finelli and Madison Murdock taking on Quinton Hughes and Dan Sager finishes, Frank is standing in the ring, Madison being outside of the ring and starting to head up the ramp. Frank is watching Madison walk off when suddenly he's spun around in the middle of the ring and picked up into the air, then slammed head-first into the mat! The fans start yelling out in surprise and confusion as the camera shows whoever attacked Frank just now to be wearing a black ski mask, a white shirt of some sort with a black hooded sweatshirt over it, and black pants with black shoes on, hiding the person's identity.
Steve White: What just happened?! Who just attacked Frank Finelli?!
Madison turns around confused about what's going on in the ring as this mystery person then stands there, staring out of the ring at Madison and glancing around at the fans. The mystery person notices the EHWF North American championship belt laying there on the mat and slowly reaches down, picking it up. This person stares at it for a little bit before dropping it to the mat and slowly unzipping his hooded sweatshirt... revealing a very similar looking championship underneath of it. In fact, it is the EHWF North American championship!
Chuck Thompson: Wait, why does this person have another one of the North American championship belts?
The fans look on in confusion at the sight of two EHWF North American championship belts as this mystery person stands there showing off the championship the person is wearing. The person then walks over and asks for a microphone, the camera not close enough to catch the person's voice. The person gets a microphone and stands there for a moment or two, a evil smirk slowly creeping onto their face, before raising the mic up to their mouth.
Mystery person (with something changing their voice): They all thought I was gone... You all thought I was gone... Even you Madison thought I was gone.... But you see, there's something funny about that.... Because sometimes.....
The fans and Madison continue to watch this person in confusion, not knowing who it is at all. The person has kind of an evil smirk that slowly turns into an evil smile on their face. They then reach up for the ski mask they are wearing. Everyone in the arena seems to be waiting, just about bursting with anticipation as to who is under the mask. The person then grabs the mask with both hands and lifts it up, but ducks their face down as they do so, still hiding the identity. They slowly lift the mic back up, leaving the mask in front of their face now so they can't be seen yet.
Mystery person: Even the United States government themselves..... makes very costly mistakes....
Suddenly the mask is dropped and the entire arena gasps in shock. Madison's eyes grow as wide as they can possibly go and her jaw just about drops to the ramp she's standing on. The EHWF viewers at home can't believe what they are seeing either! There's no way! It can't be! It's....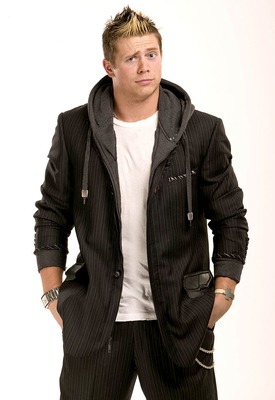 Steve White: Oh my God! It's the former EHWF North American champion, "The New Age Nightmare" David Arnold!
Madison just looked on in shock as the EHWF fans started going crazy at the return of David Arnold. David stood there, a smirk on his face.
David Arnold: For those of you who don't remember who I am, I am the man who was taking the EHWF by storm before the United States government decided to pretend that they had killed me during something they refused to talk about. But they couldn't kill me.
However that is neither here or there. What's important to you people right now is that I am back here in the EHWF. With the North American championship belt that I never officially lost. Sure it appeared that I lost the North American championship at Last Rites last year, but there's a problem with that. I was never there. That was a look alike that the EHWF hired so that they could take the title off of me without having to vacate the title.
So what I'm saying is this. Tonight I officially return to the EHWF. Tonight marks the return of The Nightmare Era here in the EHWF. And tonight I officially lay the challenge down. Finelli, if you can hear me right now, your ass is being given a challenge. You. Me. The North American championship. After all, the last two times we were in the ring, I beat you. Both times. And I'm looking for that third time and that championship to come back around my waist. When your ass wakes up, I'll be waiting for your answer.
David drops the mic as Madison continues to stand there on the ramp in shock at the sight of her former fiance apparently back from the dead. David looks out of the ring at her and smirks a little bit, mouthing something that the camera couldn't quite pick up to her. He then leaves the ring and goes through the crowd, the fans going crazy and trying to high-five him and touch him and all that as he disappears through the crowd...We come back from commercial and Patricia Downs is in the ring with a mic.
Patricia Downs: The following match is for one fall!
Sujir Thorn's music goes off but out of no where Maddox runs out behind hm and attacks him from behind. Maddox starts laying in hard shots to Sujir Thorn then rolls him in the ring.
DING DING DING!
Match #5: Mike Maddox vs. Sujir Thorn
Maddox starts stomping out Thorn on the mat and then tosses him into the corner. Maddox hits a corner clothesline on Sujir then goes for the Love Guns but Sujir reverses it and STO's Maddox!
Chuck Thompson: Maddox from behind that asshole!
Steve White: Thorn is hurt but fighting tough.
The two continue fighting as Sujir gets Maddox on the ropes. Sujir runs at him but Maddox ducks and hits him with a neckbreaker! Maddox hits a scoopslam on Thorn and goes to cover but Thorn kicks Maddox in the head!
Steve White: A back and fourth match so far!
Thorn clotheslines Maddox and then boot him in the head! The crowd cheers. Sujir picks Maddox up and is able to hit a massive suplex!
Chuck Thompson: Suplex!
Steve White: By Gawd!
Maddox is struggling, Sujir kicks him in the ribs. Sujir goes for his finisher but Maddox reverses it into the Love Guns and quickly but Sujir away!

1…
2…
3!
DING DING DING!
Patricia Downs: Here is your winner… Mike Maddox!
Mike looks like he's going to leave, but hits Sujir with the Love Guns one more time then celebrates as his music plays. We fade out to a commercial break.The scene comes back from a commercial break with Patricia Downs in the ring with a microphone in her hand.
Patricia Downs: The following contest is a fatal four way scheduled for one fall!
Walk this way by Aerosmith hits and A.J. walks out and then sprints down to the ring and slides into it and shakes the ropes.
Patricia Downs: Introducing first, fighting out of Arkadelphia, Arkansas, standing at 6 feet and 1 inch tall and weighing in at 200 pounds, AJ Flare!
Beautiful Lie hits the PA system. The whole arena goes pitch black for a moment but dim blue lights come on and offer some illumination. We see the big sillouette of Domenic Mazzio as he slowly raises his arms up. He walks out onto the stage and the lighting becomes brighter. He raises his arms up two more times then throws them down sending a massive explosion of blue pyro rocketing out of the stage. Mazzio then proceeds down the ramp and shakes hands with the fans. He gets in the ring and takes off his tank top and throws it into the crowd before raising his arms while climbing the turnbuckle.
Patricia Downs: Introducing his opponent, fighting out of Australia, standing at 6 feet and 4 inches tall and weighing in at 335 pounds, Domenic Mazzio!
A silence is broken by a voice over as music begins to play, "Let me give you a little advice, there's a force in the universe that makes things happen. All you have to do is get in touch with them." The chorus of Scraped by Guns N' Roses begins to play as Tyler Gates makes his way out on the entrance ramp with his arms raised trying to get the crowd louder. He then throws his signiture two middle fingers pointed towards the ceiling as pyros shoot up from the floor. He then makes his way to the ring pointing at and greeting fans. As he gets halfway down the ramp, he runs and slides into the ring. He runs over and jumps on a middle turnbuckle corner and again gets the crowd behind him.
Patricia Downs: Introducing their opponent, fighting out of Denton, Texas, standing at 6 feet and 1 inch tall and weighing in at 224 pounds, Tyler Gates!
The opening riff to "Let it Die" by Ozzy Osbourne echoes through the arenas speaker system as the lights dim. A few seconds pass before a golden light focuses on the top of the ramp. Standing there is a regal looking Sah'ta Thor who is wearing a white furred red satin kingly mantle with a matching crown. In his right hand is a royal scepter studded with gems. The light takes on a reddish tinge as four women (Melfina, Briandea, Paige, and Colliette) dressed in varying colored corsets come out from the back and surround him. As the the lyrics start up, the group starts down the ramp as the women dance around him. Once at the ring, Thor hands the crown and scepter to the women before shrugging off the royal robes. Thor is now revealed to be standing in a pair of black jeans and a red t-shirt with a golden pattern of the Seven Deadly Sins with the words Sin Incarnate in white. He pulls off his shirt, revealing his scarred toned muscular upper body. He turns and starts pacing in the ring as he awaits the bell.
Patricia Downs: And introducing their opponent, fighting out of Unknown, standing at 5 feet and 9 inches tall and weighing in at 175 pounds, he is the Hardcore Champion, Sah'ta Thor!
DING DING DING!
Match #6: Sah'ta Thor vs. Tyler Gates vs. Domenic Mazzio vs. AJ Flare
The match starts out and all four men waste no time in going after each other. Sah'ta Thor and AJ Flare begin to battle it out in a corner while Domenic Mazzio and Tyler Gates begin brawling in the opposite corner. Domenic Mazzio and AJ Flare get the upper hand and they look across the ring at each other and nod. They then attempt to irish whip their two respective opponents at each other, but both men counter at the same time and instead whip AJ Flare and Domenic Mazzio together! Both men smack their faces together and roll out of the ring on both sides.
Steve White: A tag team attempt gone wrong right there.
Chuck Thompson: Oh well, why would they try to do a tag team move in a fatal four way anyway? It's every man for himself in there.
Steve White: That doesn't mean you can't tag team. It will eliminate two guys and the other two can then battle it out.
Sah'ta Thor and Tyler Gates stand inside of the ring facing each other. They look at the two guys on the outside of the ring getting back up to their feet and they both run at them at the same time and they dropkick the two men through the ring ropes! The crowd is loving the action and then Sah'ta Thor and Tyler Gates get back up to their feet on the inside of the ring and run at each other and hit a double clotheline on each other at the same time! Now all four men are down, two in the ring and two out of the ring.
Chuck Thompson: What the fuck just happened?! That was all too fast for me to follow!
Steve White: Some great tag team moves. Maybe these guys should think about making a team?
Chuck Thompson: Haha! Ya right.
All four men begin to get back up to their feet and AJ Flare's forehead is actually busted open from smacking faces with Domenic Mazzio. The two men that were on the outside of the ring climb in and another four man brawl breaks out. Sah'ta Thor plans Domenic Mazzio down with a powerbomb and Tyler Gates hits a D2E on AJ Flare! He then turns around and hits another D2E on Sah'ta Thor! Domenic Mazzio stumbles back up to his feet and Tyler Gates hits another D2E on him as well! All three men are down because of the D2E and Tyler Gates pins Mazzio! 1...2...3!
DING DING DING!
Steve White: What a match!
Patricia Downs: The winner of this match, by pinfall, Tyler Gates!
Tyler Gates' theme song begins playing over the PA system as he climbs back up to his feet and gets his hand raised in victory by the referee. He looks around him at the three bodies layed out in the ring. He smiles and nods his head at the scene before rolling over the top rope and out of the ring. He shows off the whole way back up the entrance ramp as the scene fades out to a commercial break.The fans are all standing on their feet as the next contest is the most anticipated of the night. THE MAIN EVENT OF THE MAYHEM CARD! The fans are all cheering in anticipation as the form of Patricia Downs is in the middle of the ring with a microphone in her hands.
Steve White: Well this is going to be the best match of the night Chuck. I got a feeling that this isn't going to disappoint! I know it!
Patricia Downs: Introducing first...he hails from Las Angeles California! He stands in tonight at six feet and a inch. He comes in weighing in at two hundred and thirty pounds. He is known as the highlight of the night! HE IS JAMES SERENITY!
The guitar riff at the intro of "Hunt You Down" by Saliva starts to play leading into the full theme. James Serenity walks out, looking out to the crowd before motioning his hands up and down his body, pointing out his muscular definition. He smirks as flicks his hands a couple of times as he lifts his arms out from his body, slowly turning for the crowd. He flicks his hands again away from his body as he turns around aggressively and starts walking to the ring. As he reaches the ring, he runs and slides under the bottom rope. He jumps up to his feet and walks over to the corner, climbing up to the second turnbuckle and motioning again as his muscular physique before extending his arms out, posing for the crowd. He smirks as he leaps down and leans back in the corner, waiting for the match to begin.
Chuck Thompson: We all know coming into tonight that this guy and his partner in crime in Drake Coleman can't be trusted by their partners. They might as well be attempting to attack them in a ambush if you really wanna look at it. You can't place any trust in either of them so of course I really think that we need security out here right now.
Patricia Downs: Introducing his partner..he hails from Cameron North Carolina! He comes in standing at six feet and two inches. He comes in weighing at two hundred fifteen pounds. He is the man we know as Jason Dave!
Above The Law by Bad Meets Evil hits the PA system and the fans lose it in their seats. They rage into a series of boos as Jason Dave steps out into the vicinity. He nods in approval of the crowd's recognition of him. He struts down the ramp, ignoring the degrading comments coming from each of the crowd members. He slides into the ring and taunts the crowd as he waits for his opponent.
Steve White: Jason Dave has been trying to pull back ever since MeltDown. Many would say that losing at the pay per view messed up his nerves. Some people claim that he believed he was impossible to beat, but hey I doubt that. I think the guy just needs to fight here tonight. Sometimes you win and sometimes you lose. Shit just happens.
Patricia Downs: Introducing their opponents..first hailing from New York, New York...he comes in standing at six feet and seven inches. He comes in weighing in at two hundred and sixty five pounds. He is the Mayhem World Champion..BLACK MAN!
"Hall of Fame" by The Script hits the PA system as the fans stand to their feet and cheer as the world heavyweight champion, Black Man, hits the stage with the title in the his clutched left hand held above his head. Black Man looks at the world title and then back at the fans as he pats the title still raised in the air. Black Man begins his decent to the ring as pyro goes off behind the champion. Black Man slaps a few fans hands on his way down the ramp before hoping onto the ring apron and proceeding over the top rope. Black Man stands on the bottom rope and holds the title to the screaming fans.
Chuck Thompson: Now on the other end of things the world champion is in a moment of stress I just hope he can come in without worrying about his own partner in Coleman. Thing is many people doubt that this doesn't smell of a bit of shit. This is plain strange.
Patricia Downs: Introducing his partner..HE HAILS FROM CHAROLETTE NORTH CAROLINA! He comes in tonight standing at six feet and nine inches. He comes in weighing in at two hundred and ninety eight pounds. HE IS THE ICON DRAKE COLEMAN!
"World on Fire" hits the PPA and fireworks explode across the stage. Drake Coleman's form rises through the smoke. His hand taking off his shades as he looks around. As he does so the form of James White appears behind him. Drake looks back and slowly puts his shades in the man's hands. His hazel eyes looking around at the fans as he shakes his head. His head turns slowly to look at his former doctor and the two exchange a brief conversation, but it isn't loud enough to listen in over the music. His form then turns back toward the ring as his right arm raises and pyro begins to fall down from the ceiling onto the ramp way.

As Drake heads down to the ring we see him looking at every fan across the front rows. His eyes closing as he shakes his head before looking into the ring at the announcer Patricia Downs. Slowly climbing up onto the apron before going in between the ropes. Drake slowly leans against the corner as James White slowly turns on the ramp way and walks out through the curtains. Drake's eyes close as he awaits the magic sound for the start of the match. His body tensed up and ready for the fight.
Steve White: To say the least this man has been on a path of destruction since his return to EHWF. One can only hope his going to be straight up with his opponent at Blood Bath in Black Man. It would suck if he wasn't!
DING DING DING!
Main Event: Black Man & Drake Coleman vs. Jason Dave & James Serenity