Post by La Familia Gómez on Aug 31, 2020 6:32:00 GMT -5
OPENING: The beginning of the night starts with Tiger appearing and talking about Bloodshed. He says that guys like Claude Vigor and Rory Hazlow have failed to make an impact in Divine but they have still had their fair share of shots at Brianna Rissi. Tiger says that it's time to crown some new number one contenders but Tiger is interrupted by Sebastian Conner. Sebastian berates Tiger for cancelling his match against Legion at Bloodshed and says he knows that Legion is here tonight and wants a shot at her. Sebastian then demands that he be named number one contender because he is better than everyone else in Divine. Brianna Rissi interrupts him and Tiger and demands that Sebastian shut up. Tiger makes an impromptu match - Sebastian vs. Brianna to see how good Sebastian really is.
Impromptu Match: Brianna and Sebastian start things off with a tie up. Brianna quickly gets the advantage and embarrasses Sebastian Conner. Sebastian gets virtually dominated by Brianna fairly easily. After a heavy beating, Brianna finishes Sebastian off with a Sunset Flip Slam. After Brianna's victory, Tiger fires Sebastian and Brianna dumps him on his head in the trash at the announce table.
Winner: Brianna Rissi via pinfall @ 2:36

Match #1 (Riley Savell vs. Kuttah): The MMA Title is on the line. Riley Savell's teething into MMA is gone and she is quite pro now. After the first round Riley schools Kuttah up and down the ring. At the beginning of the second round, Riley takes Kuttah's head off with a buzzsaw and gets the win via knockout.
Winner: Riley Savell via TKO
Match #2 (Zoe McDraven vs. Mr Katz vs. Ace Pena): Zoe and Ace fight it out. The match has lots of high flying offence but Mr Katz rushes in and gets near falls on both of them with attacks from behind and ambushes. Ace Pena goes dirty and gets rid of Katz. He almost gets the win but Zoe is too experienced and saves the match several times. Zoe almost makes Ace tap out but he reverses it and kicks her head off with a roundhouse! Mr. Katz knocks Ace out from behind with a Guitar Shot and gets steals the win! Katz is crowned Number 1 Contender!

Winner: Mr Katz via pinfall @ 9:40

SEGMENT: Backstage Brianna Rissi is walking the halls when she's ambushed by Richard Dweck and "Pretty" Ricky Stanton! They brawl backstage for some time before Brianna gets the upper hand and fights the two men off. Brianna then gives chase, hunting down Ricky and Richard and beats them up before tossing them in a crate in the arenas depot. An international Fed Ex Truck arrives and Brianna pushes the crate onto the loading platform, taking the two underperforming wrestlers and transporting them out of Divine for good!
Match #3 (Pretty Little Flyers vs. Justice): The match begins with Justice using their size and strength advantage and dominating the early parts of the match much to the crowds disappointment. Jessica changes the tide with some high flying offence but Sophia Alva is the standout. Sophia shocks the fans with some amazing high flying moves. She saves Jessica during the match and is able to also hit Rory Hazlow with a Terra Bomb for the win! Pretty Little Flyers are named number one contenders respectively while Justice limp off, complaining and raging.
Winners: Pretty Little Flyers via pinfall @ 11:01

SEGMENT: Rock 'N' Roll God appears yet again and states that Bloodshed and Divine are bullshit. He goes into a tirade about being beat up week after week and how insulting it is when he is the greatest person alive in the industry of Wrestling. Michael Rissi comes out and RNRG pees a little. RNRG goes to flee but Michael stops him and asks him to prove that he's as good as he says he is. RNRG begs for mercy but Michael Rissi tells him the only way out is to beat him and a ref is called.
IMPROMPTU MATCH: RNRG rushes at Michael Rissi but gets his head kicked off with a Superkick straight away. Michael presses RNRG up for a massive overhead slam and covers him for the win. Michael then takes out the trash. Throwing RNRG off of the stage with another overhead slam much to the fans delight!
Winner: Michael Rissi via pinfall @ 0:31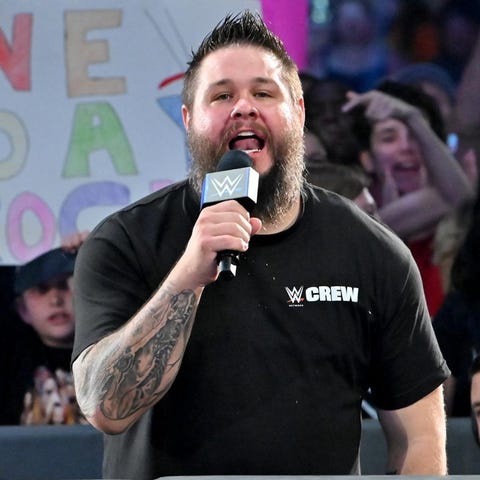 Match #4 (Brianna Rissi vs. Kieran Overton): The match starts off fast! Kieran is shocked at the power and speed of Brianna and changes his tactics up! He gets the upper hand by being brutal and brash and tries all he can to take Brianna down but she keeps getting back up and eventually gets back in control! The fans love the match as The Destructive Beast hits his finisher but Brianna kicks out. Overton tries hard to put her down again but Brianna keeps getting stronger the more angered and desperate she gets. Brianna takes down Overton by Superkicking him over the top rope! They fight on the outside and Kieran realizes that he went in too confident against a pumped up Brianna! Overton tries to hold her down for the countout but she overpowers him and makes him pay! Brianna tries to get back in the ring but Overton grabs onto her just long enough for the double countout to hit from the ref!
Winner: No Contest due to Double Countout @ 10:08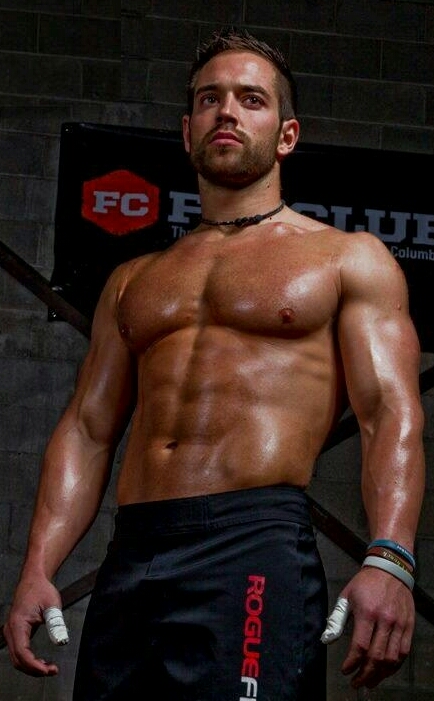 SEGMENT: Sophia Alva and Jessica Anderson are being interviewed backstage about being named Number 1 Contenders. Kai Stevens appears with his title belt, ready to go out for the main event. He tells Sophia and Jessica that they deserve better and to get ready and watch how a REAL champion defends their title.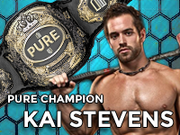 MAIN EVENT (Kai Stevens vs. Ryan Kelly): These two men battle it out similar to last week but it spoils into an all out fist fight. The two beat each other up and bloody each other out! It goes back to a technical contest and even mixes in some high flying moves. Kai tries his best to Kelly away but Kelly keeps getting up! While Kai leads the match he can't seem to win. Kelly gets some offense in but Kai starts hitting some power moves. Both men go and go but Kai has more energy and stamina and uses it to his advantage. They're both beaten, bloody and bruised but Kai is able to take Ryan out with a Superplex as he pulls out all the stops. Kai gets a hard fought win. Even after getting in the most offense and leading the contest, Kai was still made to work hard for the Pure Championship retain.
Winner: Kai Stevens via pinfall @ 16:20

CLOSING: Mr. Katz appears at the end of the night in the ring and goes on about how no one asked his opinion about becoming the number 1 contender. Mr. Katz goes on to say he is the underdog in the title hunt as Brianna Rissi has proven to be too strong and Sophia and Jessica will work together to unbalance the odds. Pretty Little Flyer's come out and rebuke Mr. Katz saying that while they are Tag Champs and great friends, it will be everyone for themselves come time for the World Championship Fight. Brianna Rissi appears with the World Championship and congratulates the three contenders but goes on to say she doesn't care who she is facing or how many people she is facing. If she has to take all of them on she will. Things get heated between the 4 fighters but they are interrupted by Justice. Rory Hazlow, Claude Vigor, Ace Pena and Shotgun Koa all appear. They berate the 4 in the ring and say that they should be the contenders. Brianna Rissi says she'll take all 4 of them on if she has to but Mr. Katz comes up with the idea of an 8 man tag team match. The fans love it and the bell sounds shortly after!
IMPROMPTU MATCH: The match is full of action and quick tags. Justice actually gets the upper hand for a while until the Brianna and the Contenders kick into gear. Mr. Katz squares with Koa while Jessica seems to be shadowed by Ace. Sophia's opponent appears to be Claude for most of the night as the Contenders lead the match after the opening moments. Brianna finishes things by squaring up with Rory and taking him out with a Sunset Flip Slam. Everyone else is down and tired and Brianna gets the uninterrupted pinfall!
Winners: Brianna Rissi, Sophia Alva, Jessica Anderson & Mr. Katz via pinfall @ 9:21

Brianna holds her Championship belt up high above her head and the rest of her contenders in the ring to finish the night!