Post by La Familia Gómez on Nov 17, 2012 1:44:33 GMT -5
EHWF & Home Depot Present
Last Rites 11/25/2012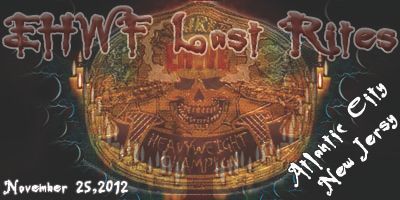 [Boardwalk Hall]
[Atlantic City, New Jersey, USA]
Sunday; November 25th, 2012
Deadline: 6pm EST
RP Limit: 2 Per Person
Theme Song: ["We Made It" by Linkin Park]
-----------------------------------------------------------
Match #1
[non-title]
[5 man hardcore battle royal]
Alex Cross vs. Gabriel Creed vs. Rockin' Lunatic vs. Sheamus Moses vs. 2 Dope
A very interesting match will start off the show and possibly be one of the best matches on the card. A mix of newcomers, veterans, and returning superstars will get together for a five man hardcore battle royal. This means anything goes and elimination rules apply. This will be no easy match to win by any stretch as all of these guys have experience in different levels of competition. The winner of this match, if he proves to be worthy, will surely get quite a bump on future cards.
-
Match #2
[non-title]
[mask match]
Mystery vs. Quinton Hughes
Since the hype of Mystery's return has died off quite a bit over the past few weeks, EHWF management has decided to higher the ante in this match. He will have to fight Quinton Hughes in a mask match. Which clearly means, if Mystery loses this match, his mask will be ripped off and will expose who he truly is. For Quinton Hughes, the simple punishment for losing will be that he will have to wear a kick me sign on the Mayhem after this Pay Per View.
-
Match #3
[non-title]
[backstage brawl]
Rock N' Roll God vs. Storming Raven
An ECWF flash from the past match is also scheduled for tonight. And the match type, a backstage brawl, is sure to make both competitors happy. Former ECWF owner, Rock N' Roll God, will make his return to EHWF after many years to face off against former ECWF superstar, Storming Raven. It is no surprise that Storming Raven wants to get back at Rock N' Roll God for all the things he put him through back in ECWF, but Rock N' Roll God has other plans and wants to make a statement with Storming Raven tonight to prove he still has what it takes. Anything can happen in this one.
-
Match #4
[non-title]
[triple threat diva hardcore match]
Pandora vs. Munin vs. Whitney Wyld
None of these divas are afraid to get their hands dirty so it is no surprise they will be in a triple threat hardcore match tonight. This is not just your ordinary divas match, as all three of these women would stand up to even the toughest of male superstars. And it is a mix of EHWF experience as well. Pandora hasn't lost yet since coming to EHWF. Whitney Wyld has been on a bad losing streak that she hopes to snap this week. And Munin, who is making her EHWF debut and looking to make a statement. Who will win this one?
-
Match #5
[north american championship]
[tables match]
David Arnold (c) vs. Raven Trueblood
David Arnold just lost his first match on the last episode of Mayhem and now he will have to go into this North American Championship match with no momentum on his side at all. But he will also be facing a guy who has not had good luck yet in EHWF, Raven Trueblood. Trueblood has a giant chance tonight to capitalize on the first loss of David Arnold's short EHWF career. The question is, can he do it? Will he be able to take the North American Championship from David Arnold with an upset win?
-
Match #6
[non-title]
[tag team ladder match]
Michael Rissi & Sah'ta Thor vs. Sujir Thorn & David Ashburn
After the interesting events that surrounded Sujir Thorn and Sah'ta Thor on the last episode of Mayhem, another interesting match has been booked for this card to add onto that. Michael Rissi, who surprisingly chose Thor to be his partner last month, will once again team with Thor and take on the team of Sujir Thorn and David Ashburn. Sujir believes he can easily take care of Thor as long as David Ashburn pulls his weight in this match. Everybody wants to know what is going on with Sah'ta Thor and Sujir Thorn and hopefully answers will come out tonight.
-
Main Event
[mayhem world championship]
[hell in a cell]
Black Man (c) vs. Frank Finelli
Frank Finelli will once again get a title match, this time it will be for the biggest title in EHWF history, the Mayhem World Championship. And the stakes will be a lot higher as well because this will be in a Hell in a Cell! Black Man claims he is ready for anything as he continues to stay undefeated in EHWF. But is he ready for the sure to be hungry Frank Finelli? Since losing the North American Championship months ago, Finelli has been on a streak to get back to top shape and hold EHWF gold once again. Tonight could be his night, or it could be another let down. Both of these men are sure to leave it all in the ring tonight.
-Card Final-
Send any segments you want added into the results to Scorpion or John Swaggah.