Post by La Familia Gómez on Jan 19, 2013 2:15:34 GMT -5
EHWF & Gamestop Present
Sudden Death 1/27/2013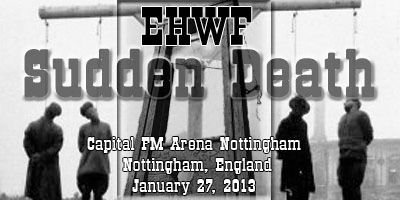 [Capital FM Arena Nottingham]
[Nottingham, England]
Sunday; January 27th, 2013
Deadline: 6pm EST
RP Limit: 2 Per Person
Theme Song: ["Switch Lanes" by Tyga ft. The Game]
-----------------------------------------------------------
Match #1
[non-title]
[5 diva battle royal for #1 contendership for diva title]
Pandora vs. Munin vs. Heather Helmsley vs. Brandy Allen vs. Alexis
A divas battle royal will start off the night with all of these divas fighting to determine who will be the next number one contender for the newly reinstated Divas Championship. With all of these divas looking very promising in all of their past matches, this is sure to be a great way to start out the stacked card. With a lot on the line in this one, you can bet they will all be gunning for the win.
-
Match #2
[non-title]
[triple threat]
Tyler Gates vs. Chance Davis vs. Ray Austin
Since coming to EHWF a few weeks ago, Tyler Gates has looked dominant and unstoppable. He has beaten two of EHWF's finest in Frank Finelli and Drake Coleman and tonight he has another test ahead of him. A triple threat match with Ray Austin and former Undead Army member, Chance Davis. Chance Davis looks for revenge after being kicked out of the Undead Army last week on Mayhem, but EHWF is looking for a reason why to keep Chance around any longer. In fact, that goes for Ray Austin too. One of them has to make a statement against Tyler Gates tonight or else neither of them will stick around. Good luck with that.
-
Match #3
[north american championship]
[chair match]
Raven Trueblood (c) vs. Frank Finelli
The first title match of the night will be for the North American Championship. Raven Trueblood won this title two months ago and is just now looking to defend it for the first time against Frank Finelli, who will be getting yet another shot at the title after his luck has turned for the better. He knows his title shots are limited, but plans to re-capture the North American title this week. Can Raven Trueblood fight off the hungry Frank Finelli, or will Frank win back the gold?
-
Match #4
[non-title]
[hardcore]
Drake Coleman vs. Mike Maddox
A huge step up in competition will happen this week for Mike Maddox, who is coming off of a successful return win over fellow EHWF veteran, Rockin' Lunatic. Drake Coleman, however, has had tough weeks back to back. First he had a no decision with Sah'ta Thor after the Undead Army ruined the match then just last week he lost to Tyler Gates. He looks to turn around his bad luck and pick up a big win tonight against Mike Maddox. Good things are sure to come to the winner of this match.
-
Match #5
[divas championship]
[singles]
Madison Murdock (c) vs. Justice Orton w/Ashley Bullard
Justice Orton appeared after Madison's match last week alongside other Undead Army managers and put an attack on Heather Helmsley and Madison. This week, Madison looks for revenge. She was just crowned Divas Champion right after the Mayhem show due to being the last Divas Champion and she never lost it before the title was retired. Now that it is back, she plans to defend it frequently and prove she is still the most dominant diva in EHWF. Ashley Bullard is at ringside for this match, though, so there is no idea of what role she will play in the outcome.
-
Match #6
[hardcore championship]
[straight jacket match]
Sujir Thorn (c) vs. Sah'ta Thor
One of many huge matches booked for tonight is Sah'ta Thor versus Sujir Thorn. These two men have been at each other for nearly two months and plan to end it all tonight. After all the revelations that has been made over the past two months about the relationship of these two men, along with the Hardcore Championship being on the line, so much is at stake in this match. And, as if you couldn't make it any better than that, it will be a straight jacket match!
-
Match #7
[non-title]
[anywhere falls tag team]
Michael Rissi & Jason Dave w/Joanna Isabella vs. Undead Army (2 Dope & Rockin' Lunatic) w/Psycho & Alina Bullard
Another huge match this week will be the returning Michael Rissi and the returning Jason Dave facing off against Undead Army members, 2 Dope and Rockin' Lunatic. About two months ago, Undead Army put Michael Rissi out of commission and then proceeded to do the same thing to other top talent such as Mayhem World Champion, Black Man. Just last week at the end of Mayhem, Michael Rissi came back to action and made the save when the Undead Army ganged up on Black Man again. After more Undead Army members came out, Michael Rissi introduced his tag team partner for tonight, the returning Jason Dave! Now, the Undead Army truly has to prove they are the most dominant stable in EHWF history by going up against one of the best tag teams in EHWF history, Rissi and Dave.
-
Main Event
[mayhem world championship]
[hell in a cell]
Black Man (c) vs. The Arbiter
A huge main event is set up for tonight as two dominant stars that took EHWF by storm when they appeared will go one on one. And what better way to solve this running rivalry with a match in how it all began, Hell In A Cell! Months ago, The Arbiter made his first appearance in EHWF by brutally attacking Black Man and Frank Finelli after their Hell In A Cell match and now he must go one on one with Black Man in the same structure he attacked him in the first time around. Black Man is sure to have no forgiving feelings in this match after all that has happened between him and Arbiter over the past two months. Arbiter looks to capture the Mayhem World Championship gold, but still so much is unknown about this man. One question that is always on every bodies minds, is why did he target Black Man? Was it just because he was the Mayhem World Champion, or was it more than that? Will we get any more answers?
-Card Final-
Send any segments you want added into the results to Scorpion or John Swaggah.