Post by La Familia Gómez on Nov 20, 2011 3:04:48 GMT -5
EHWF & General Motors Present
LAST RITES 11/30/2011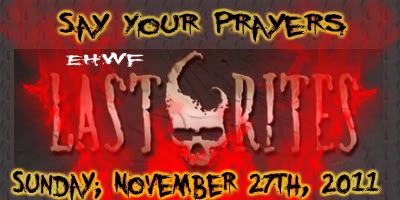 [TD Banknorth Garden]
[Boston, Massachusetts, USA]
Wednesday; November 30th, 2011
Deadline: 6pm EST
RP Limit: 2 Per Person
Theme Song: ["Back For More" by Five Finger Death Punch]
-----------------------------------------------------------
Match #1
[non-title]
[mma match]
Jesse James Jackson vs. Quinton Hughes
Two lower card studs face off in an mma style match, an area both exceed in.
-
Match #2
[non-title]
[three way elimination strip match]
Jo Jo Wheeler vs. Amanda Maxwell vs. Ariel Paine
Like a Bra & Panties Match, only this time it's the first nude diva who loses! And because it's an elimination style match, it happens twice!
-
Match #3
[#1 contenders match for the ehwf mayhem world championship]
[elimination backstage brawl]
Danny Givens vs. Scott Wilson vs. Rockin' Lunatic vs. Raven Trueblood vs. Paul Kirk vs. Mike Flynn
This match is for the #1 contendership spot for the world championship. One of these men will get his shot on Mayhem. This match works like a normal backstage brawl match, only as one wrestler gets pinned, they're eliminated. This happens until theres only one.
-
Match #4
[hardcore championship]
[street fight]
Michael Rissi vs. Sah'ta Thor (c)
Michael Rissi, Sah'ta Thor, hardcore title on the line, Street Fight - What more do you want?
-
Match #5
[non-title]
[bar room brawl]
Rocky J vs. David GS
A rematch from a few weeks past, as Rocky J gets a shot at redemption against world champion DGS. The title isn't on the line, but the pride of two EHWF greats is, in a Barroom Brawl! No DQs, no rules, falls count anywhere!
-
MAIN EVENT
[non-title]
[asylum match]
Scotty Paine vs. Drake Coleman
The epic conclusion to the feud thats been happening the past few weeks! It will happen in an Asylum Match, which is a Japanese Deathmatch inside of a Barbed Wire-wrapped Steel Cage! Looks to be brutal shit to end this brutal pay-per-view!
-Card Final-
Send any segments you want added into the results to JT, Scorpion, or Kaleb Steele.